This post started with a crustless peanut butter and jelly sandwich on soft potato bread, sitting in a little baggy.

It got thrown away before I could get a picture, but for some reason after I saw that sandwich, I got all sentimental.

You see, back when I was a little girl in elementary school, I never had a sandwich like

that.

Soft, sweet, and very processed. Yumm-a! My sandwiches were two big crusts hugging whole peanuts smeared in thick jelly. At least that's how it tasted too me. Hard, crunchy and whole-grain.

I saw a half of my youngest sister's sandwich sitting on the counter when we were getting ready for dinner the other night. "Whaaat? Since when do we get sandwiches like this?!? There is no way I would have ever had a sandwich like this when I was little. Ever." Lauren, the youngest of us seven kids, just giggled in a naughty kind of way. My mom just kept on cooking dinner and said "Oh I know" with a kidding-around-sarcastic-woe-is-Kristen-tone.


I forgot about the sandwich, and a few minutes later we were eating dinner. I was so overwhelmed with how fast life is going by. It wasn't like anything particularly special was going on, but I don't know. I was quite touched. I know that within a few years our dear ol' family is going to be going many different directions. Between siblings going to college, and marriages and moves, it won't be

just us

for many more years. I don't want to forget what it's like to be at home with everyone. Just us.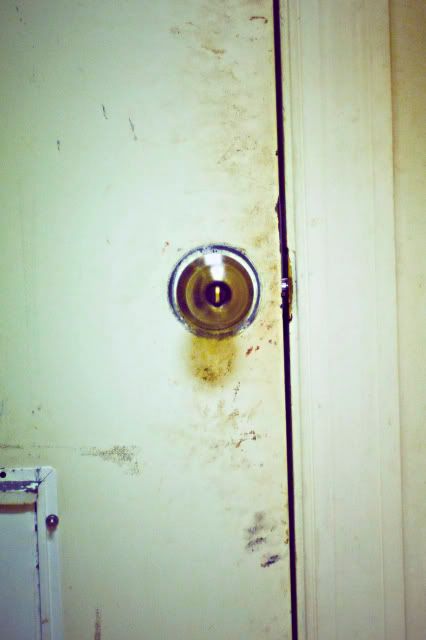 I went a little physco and started taking pictures of our night. Just so I won't forget. I love the dirty door that leads to the garage, which leads to the driveway where the basketball hoop is. Right next to the "tree-house" and slide, thats in front of our homemade wiffle-ball field. There are chalk drawings, shoes, bikes, trash, overgrown grass and many memories out there on the other side of that door!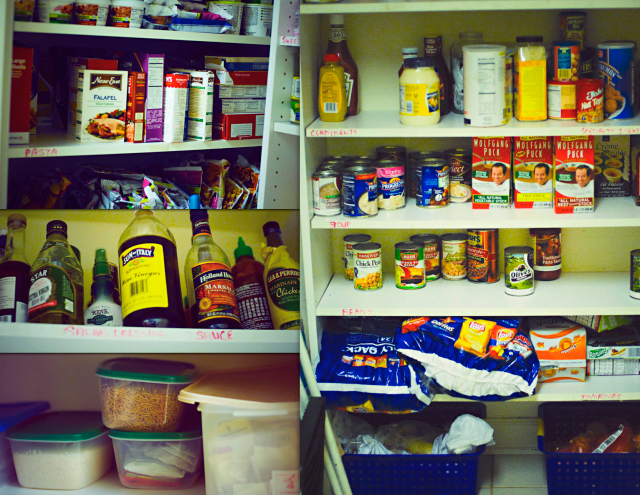 In the same room as the door, is the pantry. We eat a lot a lot a lot of food. Both my parents are excellent cooks, and all of us kids like to make food.
I do love how food brings people together and I love all of our times eating at home - and the hysterical dinner conversations. I love the times when we go out to eat and the huge scene we make. Poor restaurant staff :( haha
I love the times when I would go grocery shopping with my parents (my father is a coupon dictator!), and now I love when I take the kids grocery shopping. Especially when I send them to find something and they come back with something a little different ("I know it's not vanilla ice cream, but the Chocolate Explosion ice cream was on sale for $2 off.)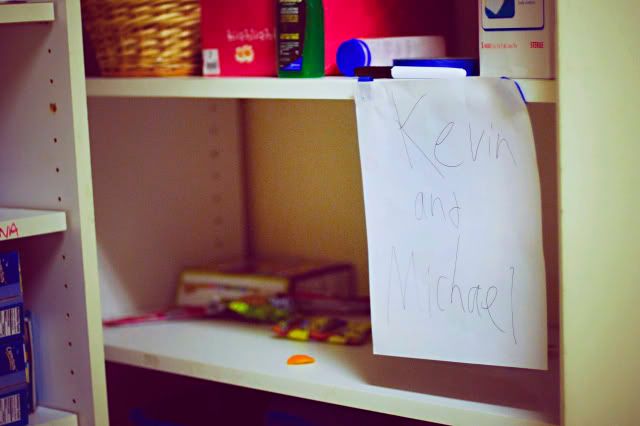 On this particular night, Kevin and Dude had to clear out a shelf and put up a sign to let people know that those Gushers and Fruit-by-the-foot's were theirs. If you don't hide or claim your food, it will dissapear with out a trace.
Actually, it will dissapear and the wrapper will be on the floor of the living room or under a seat cushion. So a little bit of a trace.
But I loved that little sign with all my heart and don't want to forget it!


Another part of our night that I loved was all that happened in the family room. It's very common to find children sleeping at any time. In any place. I love Lauren's little snowflake pants and flowered shirt that completely clash.

And I love how her face looks much more like a baby when she's asleep, especially her mouth. She is getting waaay too old.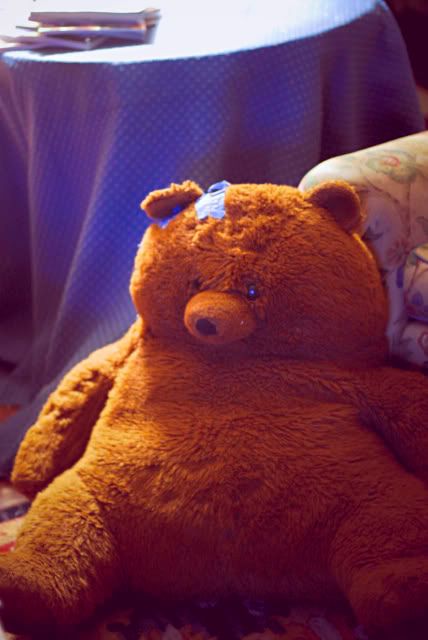 Speaking of old, Mr. Bear is one of the few animals our entire family likes. We are not pet people (Katie had a guinea pig once. It died a very soapy death thanks to a good-natured gesture from a younger brother) or even stuffed animal people. But we all love Mr. Bear.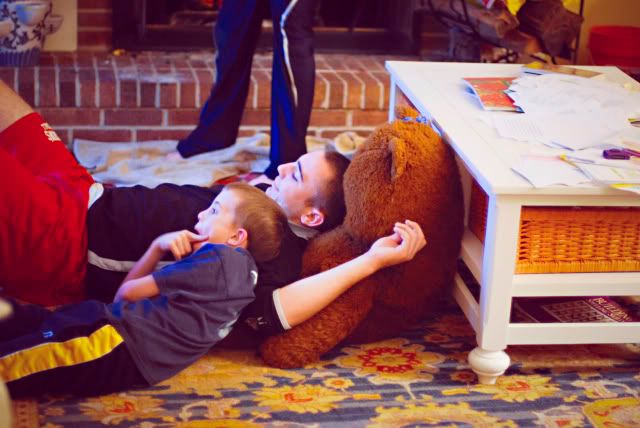 I think we love him so much cause he always has our back (he.he. I went there hahaa)
For real though, Mr. Bear is the coveted seat in the house, especially during TV time.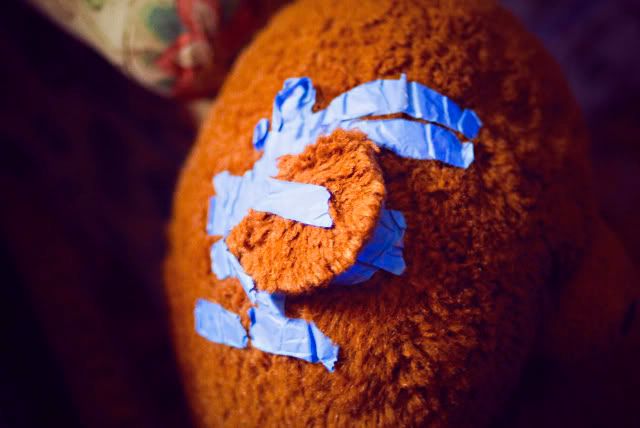 He's been through a lot :D


Oh! Another happy of the night! We got our first boxes of clementines! It's officially almost winter (officially :D) when we start getting clemetines. My family inhales those things. We go through whole boxes in hours (our record is two boxes in less then 24 hours. woot!)


Our kitchen area starts to smell like citrus and you can find orange peels all over. Usually Dude collects them and throws them away :) He's a good kid.


A little later Ladybug had found a comfier position. I just want to squeeze that little girl. I love her soooo much!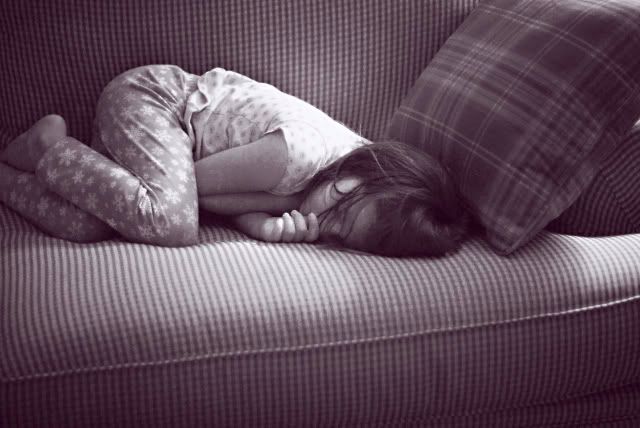 Around 8:30 it was real bedtime - the Ladies and I went upstairs to their un-made bed.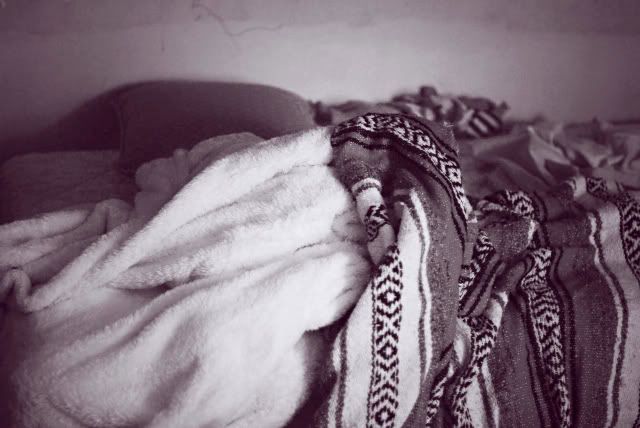 They smelled like too much shampoo, bubble-gum toothpaste and oranges. Their hair was still wet and Shannon was stumbling along her book, trying to read to Lauren. Someday she'll read prefectly fine, but for now I love that when she comes to "froggy" it sounds like "fa-er-aw-g-g-yu"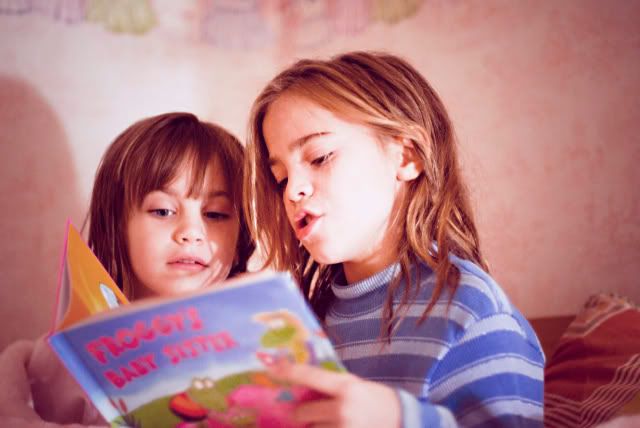 These Ladies are the best of friends and laugh and laugh and laugh together.


Oh that's just lovely, Shannon. Lovely :D


Lauren was not quite ready to sleep - after all, she had just spent half an hour sleeping on the couch. When it was finally time to turn out the lights, she tried to "fake sleep" on me.
Ha.
I could see right through her.
I was a master fake sleeper (at least she didn't try to fake snore. She knows better then I did. No one falls for a fake snore). But then she couldn't keep a straight face anymore. I love it :D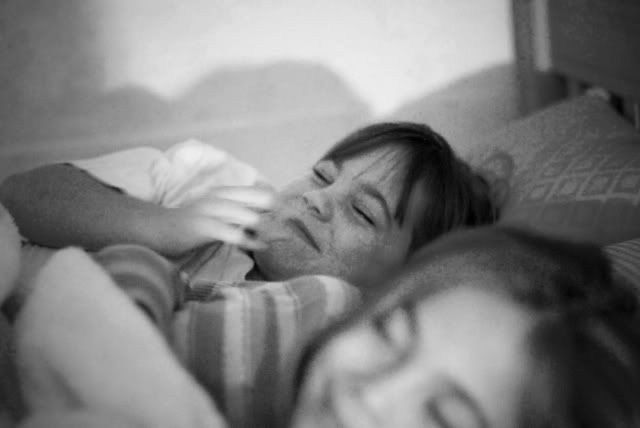 I burst out laughing and so did they. It was a while before they fell asleep, but worth it.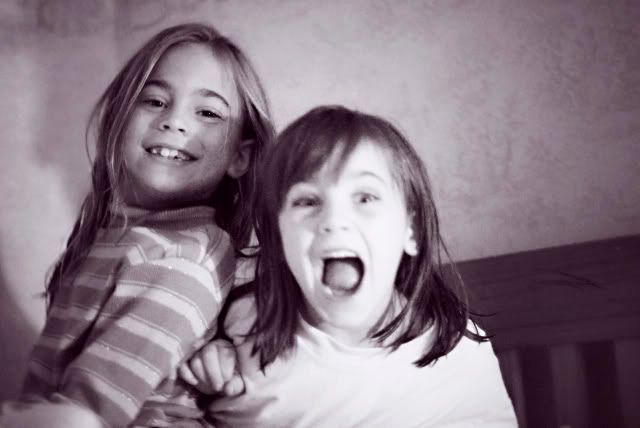 I never, ever, ever want to forget these nights at home. And now, I am going to make a potato bread pb&j sandwich and I probably won't eat the crust, thank you very much.