It was 9:30 pm and I sat in the passenger seat of Andrea's little sports car, curled up as much as I could be with a seat belt on. I watched exit signs for Summerland and Ventura fly by... I saw flat city lights sparkling in between the mountains and valleys... I saw In'n'Out burger and made a mental note to stop there at some point, but not now. I wasn't hungry at all - I had just had pasta and garlic rolls.
Chris Tomlin and his band were singing "Holy Is The Lord" in my ear, and I piped up every now and again with my dry, happy and tiredly scratchy voice.

"We bow down and worship Him now
How great, how

awesome

is He"


It was such a fun day. Andrea and I packed up and left Santa Clarita at 11:00 am, and drove through orange orchards (still the best thing I have ever smellt) and alongside mountains and next to the ocean, until we arrived in Santa Barbara.



"And together we sing




Everyone sing"



Our first stop was the little-cash-only-fresh-fresh-fresh-wonderful Mexican joint that I can't remember the name of. I went with Brienne last year, and the food was even better then I remembered. I couldn't even talk - I just spent a few minutes eating my steak taco and cheese quessadilla with pica de gallo on top.




"Holy is the Lord God Almighty


The earth is

filled

with His glory"

Then the sightseeing began. Oh, what a day. What a world! There was not a cloud in the sky, the sun was warm, the breeze made me want to sing and the location? I was speechless. Santa Barbara has got to be one of the most gorgeous cities on all of the world. And I was there. Happy as a clam.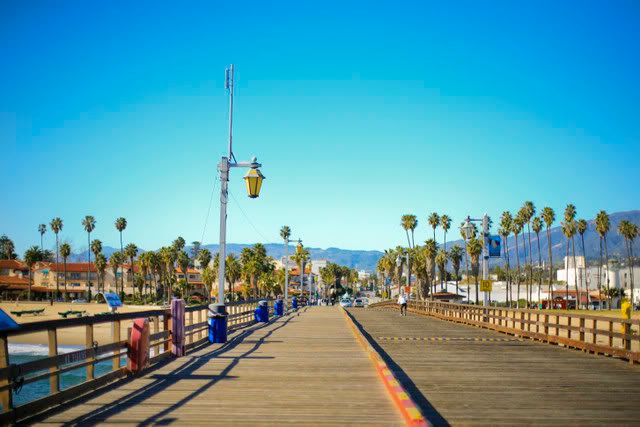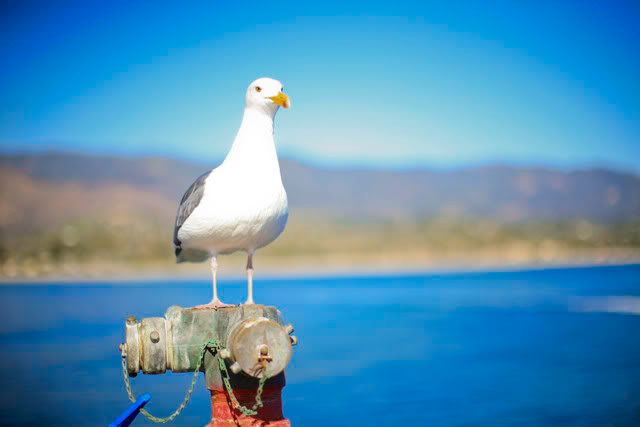 All I could think in my head was "Wow! How am I here? How on earth do I get to be here!"


I wish I could somehow put a little fan on your desk that blew out warm, fresh air. And make a Febreeze scent that was salt water, sunscreen, french fries and trees - and spray that in your room. And then turn on a sound track of waves crashing, the flapping of seagulls wings, the chitter-chatter of others, bells, creaks in the pier and silence - all mixed together. That would help you get the full picture :D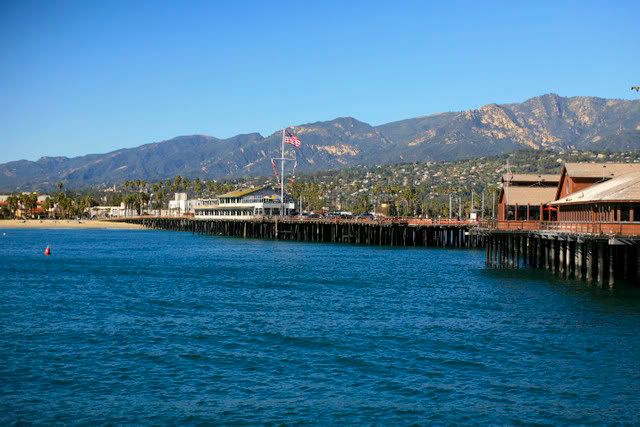 Approximately 2,800 miles in

this

direction is my home. And my family. And my friends.
I miss them all very, very much and I stood here, facing east (with a little turn north) and waved to you guys. I think the fisherman next to me was a little confused, so I pretended I was checking light and then took a picture...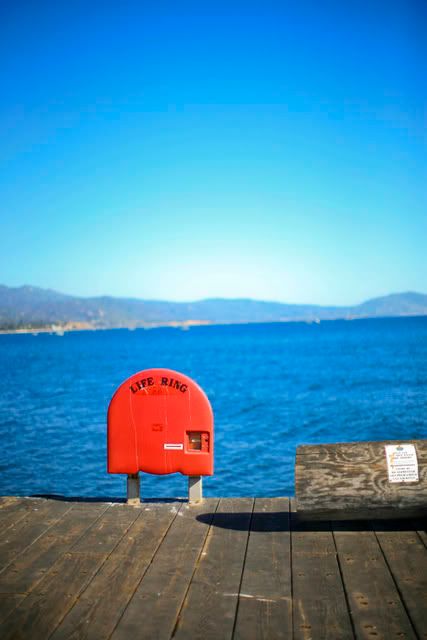 After I had smiled enough for one beach, Andrea and I went to the famous, amazing, rich, beautiful, old State Street.


My eyes were the size of dinner plates.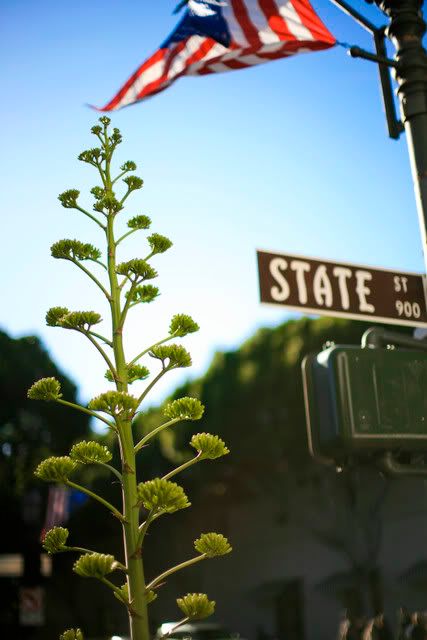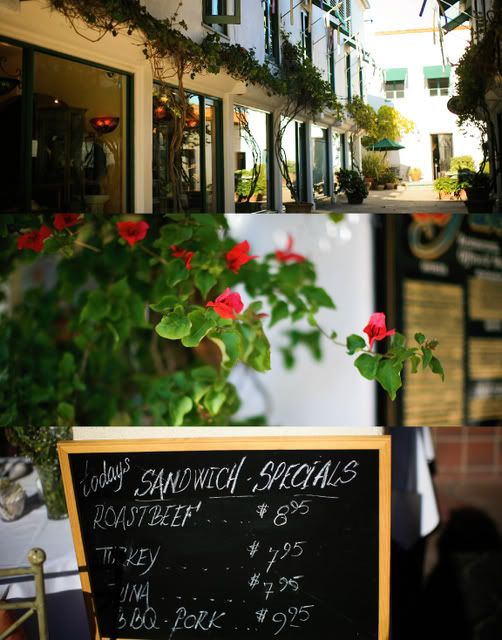 See, here's the thing everybody, this is where people LIVE. Like, if they want to go see a movie, they walk out of their plant-encrusted house, and pass by a dozen palm trees and enter an old theater, where a cute little man with a striped apron gives them their ticket.


And afterwards they go sit under a blue umbrella.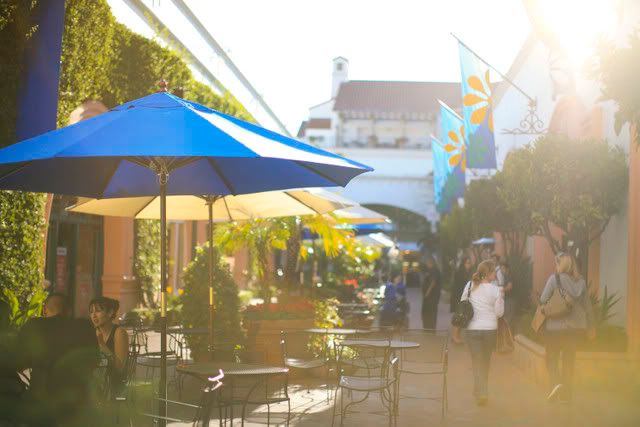 And maybe have dinner on a patio between old stone buildings. Twirling pasta on their fork, with white sunglasses perched on their head.


Then they would climb on their old beach bike and ring the bell and got to Pinkberry for dessert.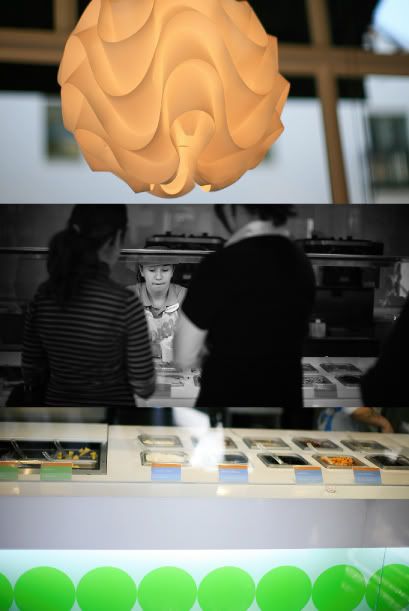 (and, yes, Pinkberry is all that everyone hyped it up to be... I'm going back today.)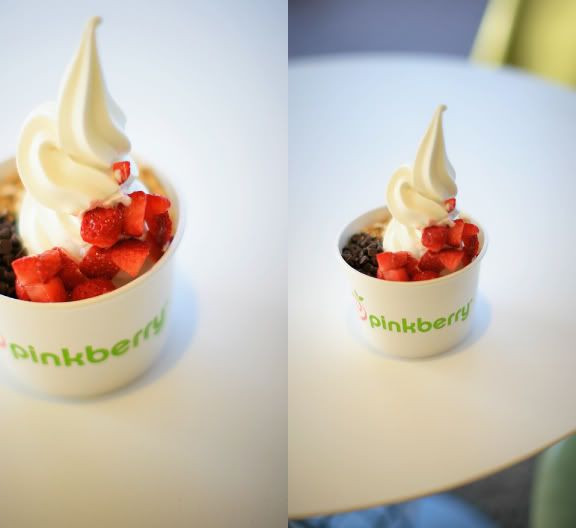 Ok, so, maybe that's not what everyone does. But they could! In January! If they wanted to...
As a friend said, I don't think Californians know how blessed they are!
So I try to tell them with my face. I smile with my mouth, eyes AND feet.
(Oh, and sometimes, there are murals of the fair painted on the wall. Don't even get me started...)


Andrea and I perused through a little side-walk Indian market... pretty fun!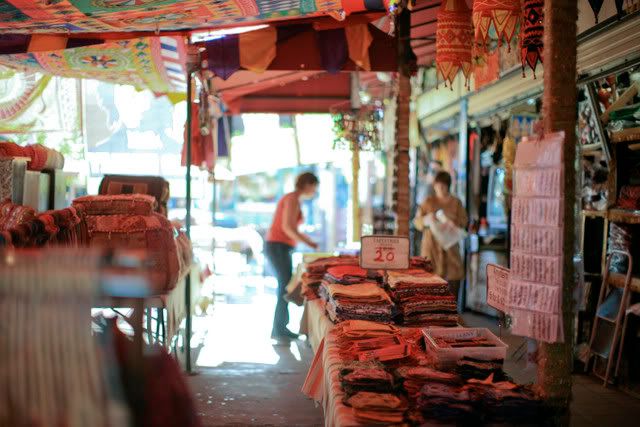 This is my "debating" face. I was debating whether or not I should get my friends purses from there...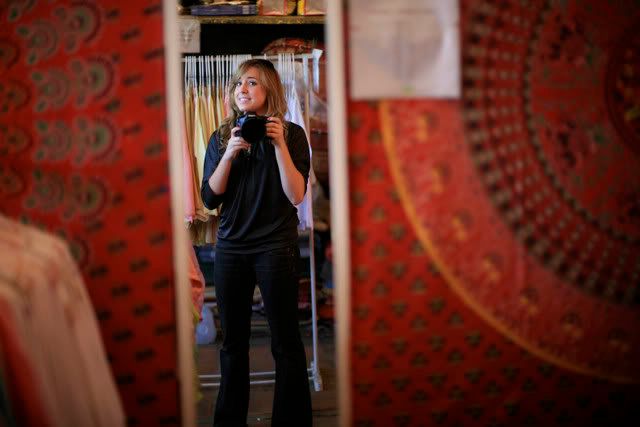 Ope, and we ran into Ben Franklin - representin' the East Coast baby!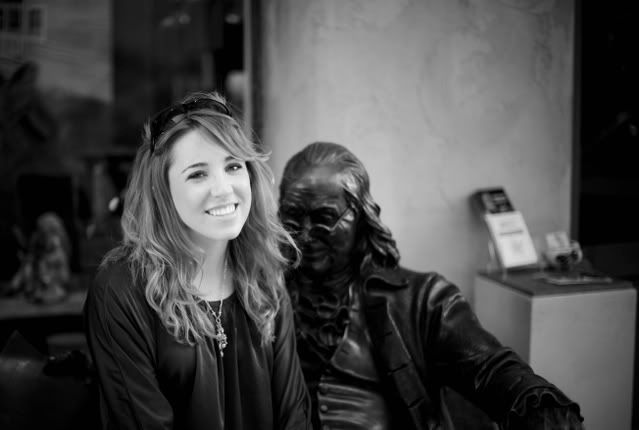 What is this building, you ask?
A church?
A school?
A misison?
No, its Macy's.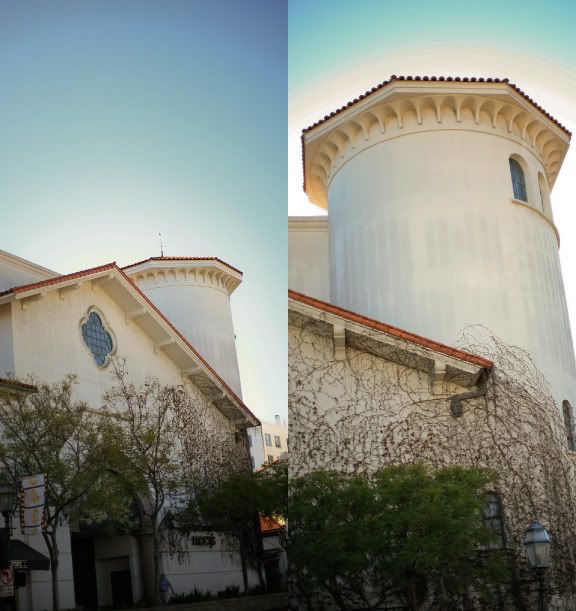 THIS is The Mission, our next stop....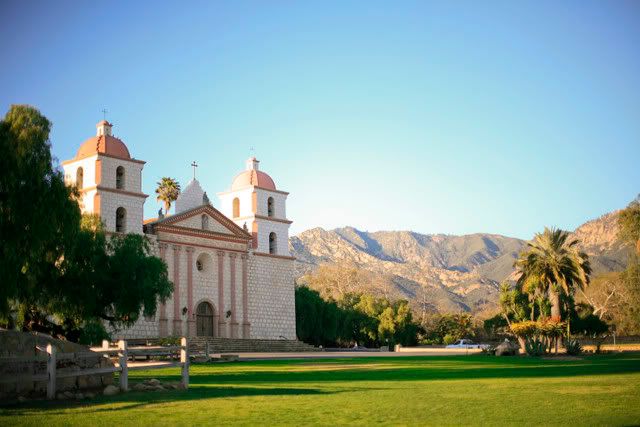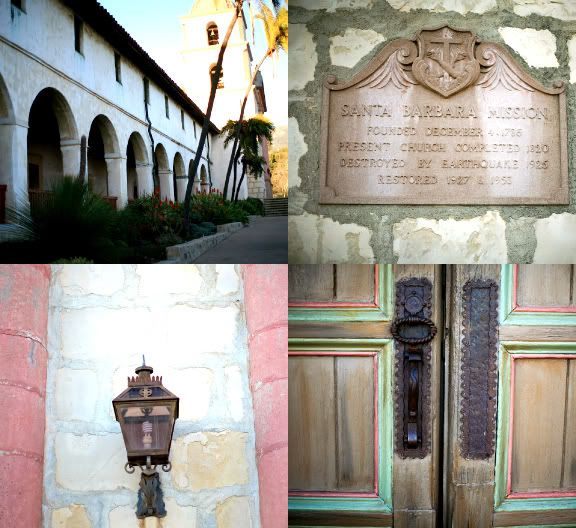 I didn't know I could be anymore impressed with anything in a single day, until I got here!


It was just plain beautiful. I don't know any other adjectives to use.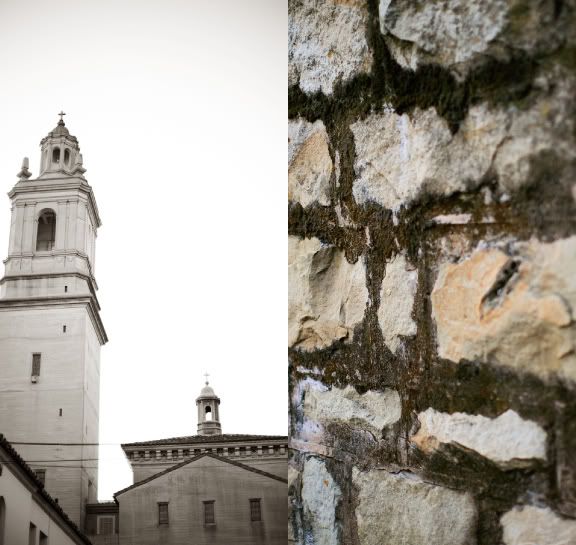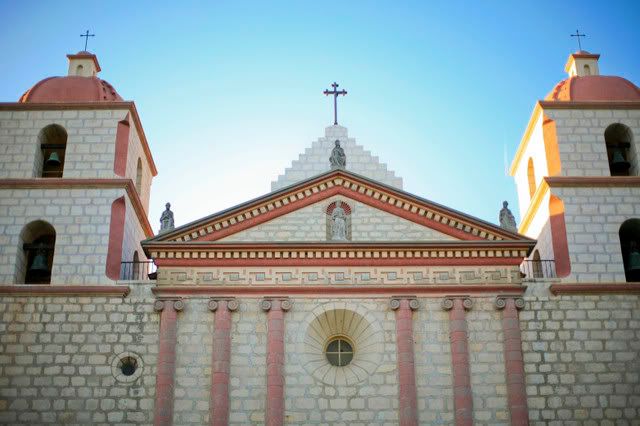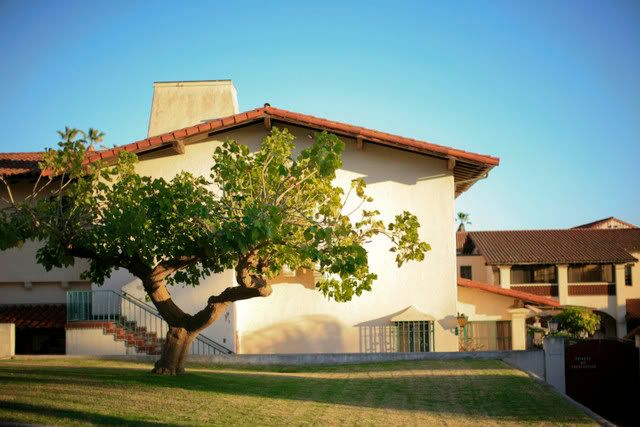 Aaaand, finally, I made it to David Jay's stunning home, to say hello. He had just finished one of his workshops, so I got to meet a bunch of sweet, fantastic photographers. The only shot I got from DJ's was the view from his family room. No joke, I was standing next to a chair shooting through a window to take this picture.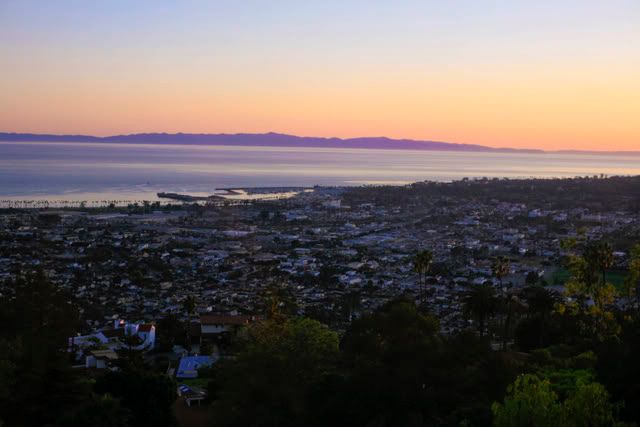 "And together we sing
Holy is the Lord God almighty
The earth is filled with His glory."