I've seen the waters, that make your eyes shine
I've
fallen quite hard over you
.
landon pigg | falling in love at a coffee shop
*Just a heads-up*
*I'm using asterisks because I want your attention*
******Look at all these asterisks******
*This post will be a lot better and sweeter and precious if you read the words.
But there are going to be a lot of words.*
Awesome.
So you know about Emma?
The classic match-maker of Jane Austen literature?
I share some of her qualities.
Mostly the match-making thing.
It's bad. I need to stop.
I'm trying to.
But I matched Lindsay and Angel up.
I called it.
They seemed like a little
Ali + Roberto
.
I knew they'd be perfect together.
Who's Lindsay?
Lindsay and I have been friends since highschool.
Lindsay has been down at University of Maryland her whole college "career,"
therefore I don't see her very much.
It's just what happens after highschool.
She's going to be a Spanish teacher.
(An amazing one at that.)
But when we do have a chance to talk and catch up,
(maybe twice a year)
we always jump right back to where we left off.
I love friendships like that.
This past Thanksgiving Break in 2010,
I had some girls over one night.
Lindsay was one of them.
She updated us on her recent trip to Ecuador.
I grilled her on boys.
Pause while I introduce Angel.
I met Angel this summer,
but had heard about him a fair amount
because of all the evangelism work he is involved with at church.
He also fights.
Like, he's a professional fighter.
And he's funny, likes salsa dancing and absolutely loves God.
Oh. And he's Guatemalan.
Basically, perfect for Lindsay.
Back to the Thanksgiving Break grilling.
"Linds, I think you and Angel would be great together."
She gasped her cute little Lindsay gasp.
"Kriiiiiisten. Really? You think so? I don't even know him!"
The rest of the night I explained why I thought they'd be great,
I follow-ed up with some texts reminding her that I thought they'd be great,
and started spreading the word to the rest of my friends,
so they could help hint at Angel + Lindsay.
Angel lives with the Smith family down near the University of Maryland.
Long story short, I was visiting the Smith's.
I told Jenni, the Smith Wife, that I was trying to set Angel and Lindsay up.
"Huh. Do they know each other?
She never comes over here to hang-out...
But she's such a sweet girl! I could definitely see that!"
Two minutes later, Lindsay came to the door.
I kid you not.
She hadn't been over to the Smith's in months.
We all hung out with a few other friends who came over, too.
Lindsay studied.
She said she was going to leave when I left.
So I stayed really really late.
Angel... well, he was impressed with Lindsay.
After that night, he wanted to see her more.
A lot more.
And within six weeks, they were dating!
And about 10 weeks later, Angel got in touch with me,
and wanted pictures of the proposal.
Yeah. It was fast.
Because they are perfect for each other.
Kneeeeew it ;)
Okay. lots of words, I told you.
But time for some pictures.
Monday afternoon Angel and I met up to perfect this proposal plan.
He showed me the three-page-letter he had for her,
he showed me the ring,
the spot he wanted to propose
(at the same table in Starbucks where he first asked her out),
we practiced the route from Lindsay's school to Starbucks,
and I approved of Angel's outfit
(He wore orange. Lindsay's favorite.)
Angel had been leaving notes, flowers and hints of the upcoming proposal
all around for Lindsay all day long.
This three-page-note was the final one.
The plan was for her to come out of class and find this note.
He poured out his heart on those pages,
and at the end said something along the lines of
"I have a question for you, please come find me where I first asked you out."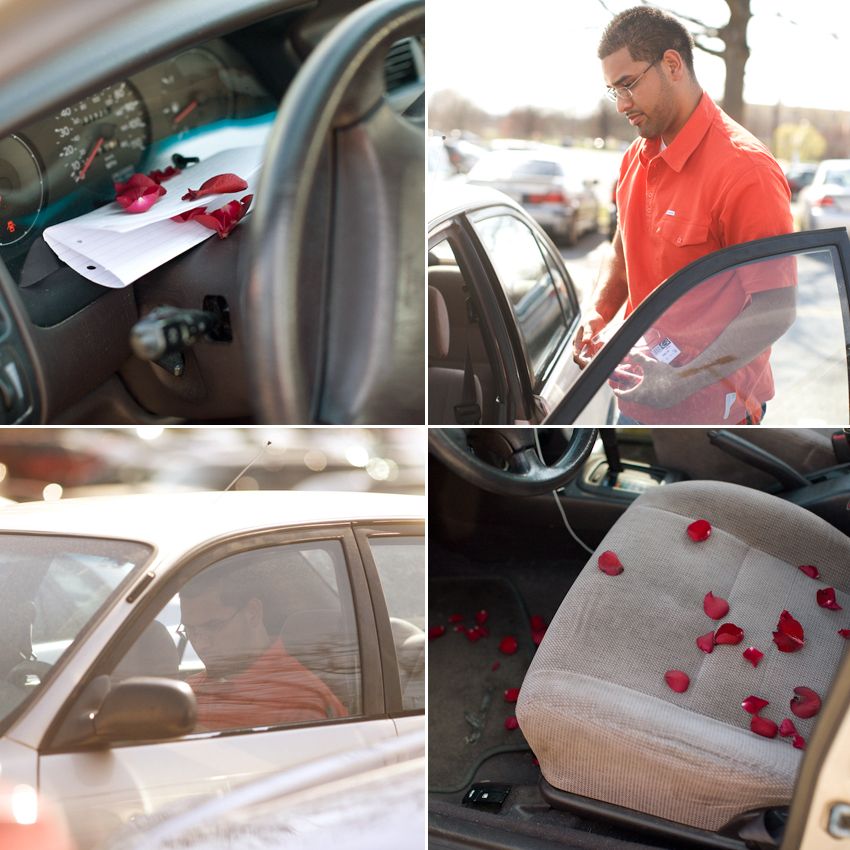 After everything was just how he wanted, Angel left to wait at Starbucks.
I hid in my car waiting for Lindsay.
My heart was racing.
It took her fooooorever to come.
But finally the tiny and sweet girl arrived at her car.
She gasped her Lindsay gasp and just stared in the window for a good long while.
And the first thing she did was grab her camera for a picture ;)
My kind of girl! Woot woot!
Then she sat down to read Angel's sincere, deep, honest letter
about his affection for her and
desire to lay down his life for her.
Lindsay smiled and cried.
She read slowly and her hands trembled.