"it was a year or so after the wedding,
that dad confided to mother his secret conviction:
that all of their children would be girls."
cheaper by the dozen | frank + ernestine gilbreth
Baby Sister has felt very earned. Her mama,
Janet
, and her "aunts" and "uncles" and grandma and daddy and even older sister waited and worked very hard for her. Bedrest, contractions, meals, early labor, babysitting, late nights, cleaning, contractions, bedrest, midwife appointments, hospital trips, hospital returns, and trips that were coming dangerously close to Baby Sister's birthday kept us all on our toes and pinkies.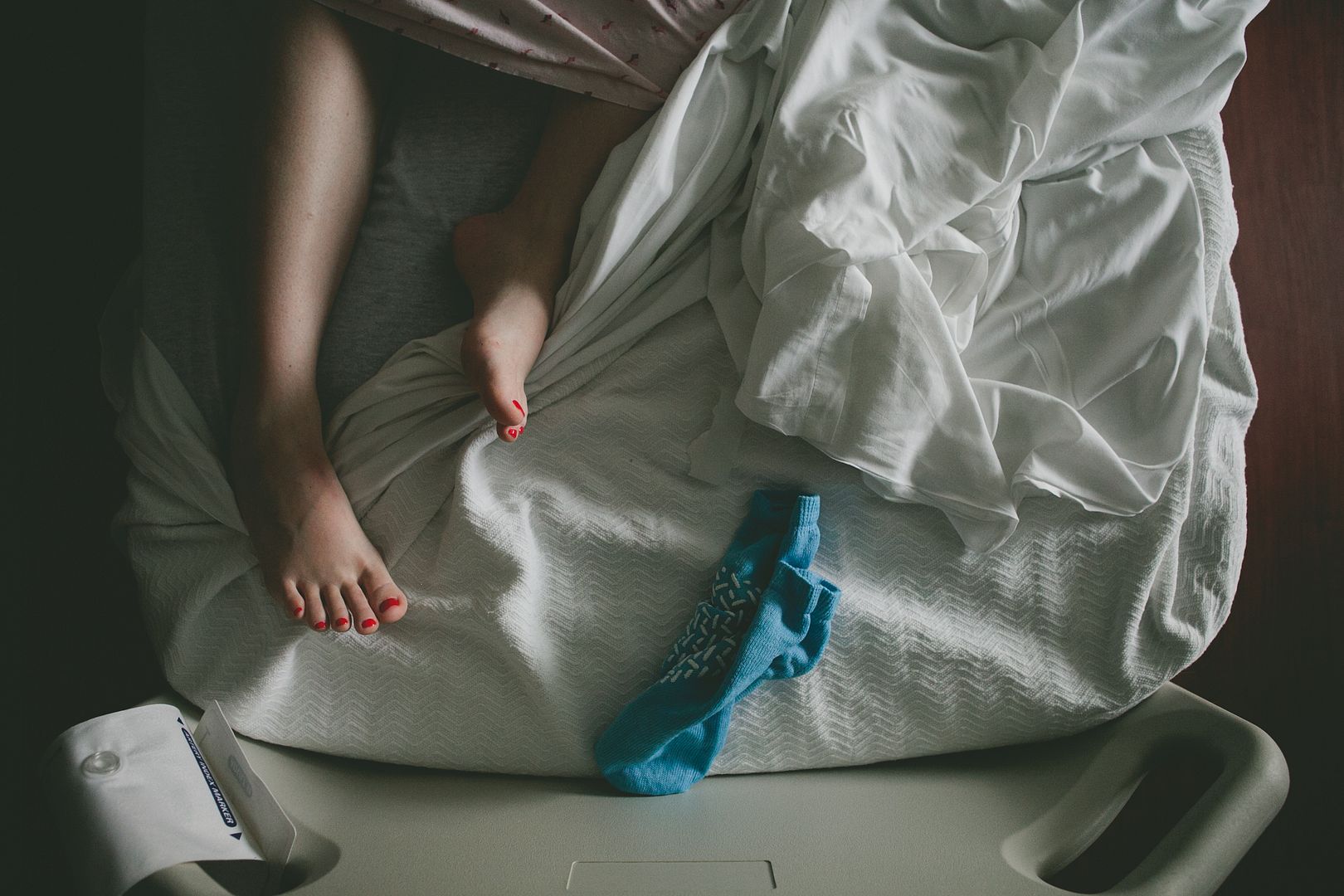 But on March 31 at 2:09 am (barely an hour and a half after checking into the hospital) Baby Sister was welcomed to this big, beautiful world by her thrilled and doting parents, excited and heroic
Aunt Becca
, and kind and nurturing Aunt Jenne.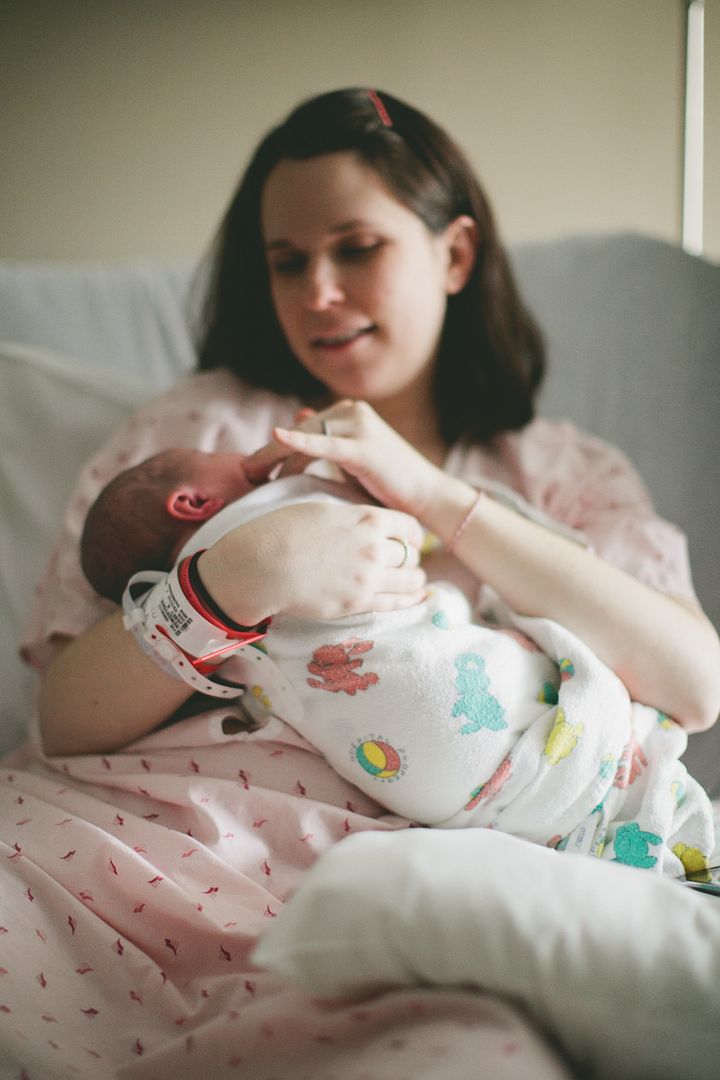 A few hours later I dropped in to meet the newest (and nameless) girl in my world. When I arrived she was having some emotions. Janet told me that this little girl knows who her mommy is, and knows when she wants mommy.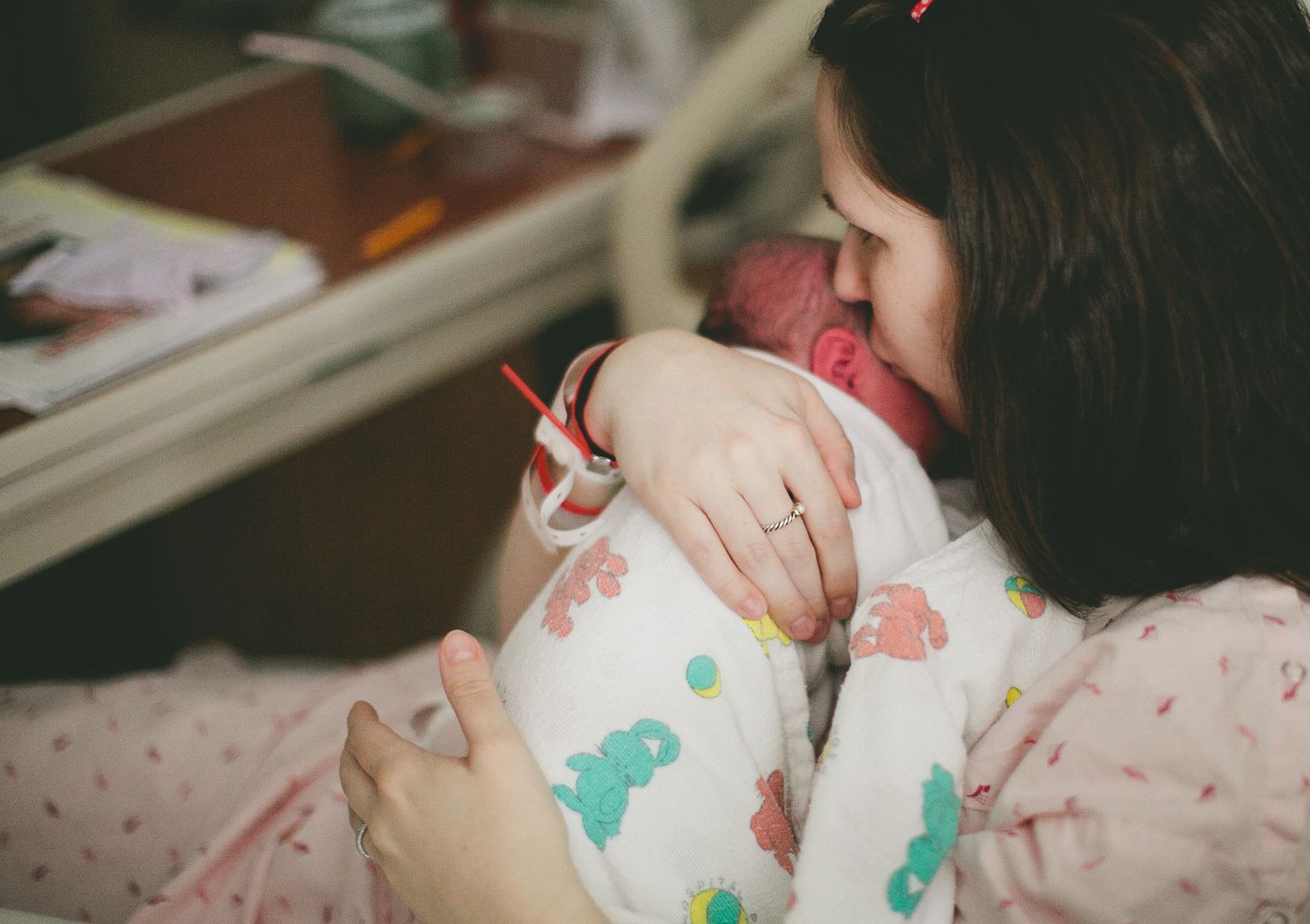 Her squawks lessened and she was groggy.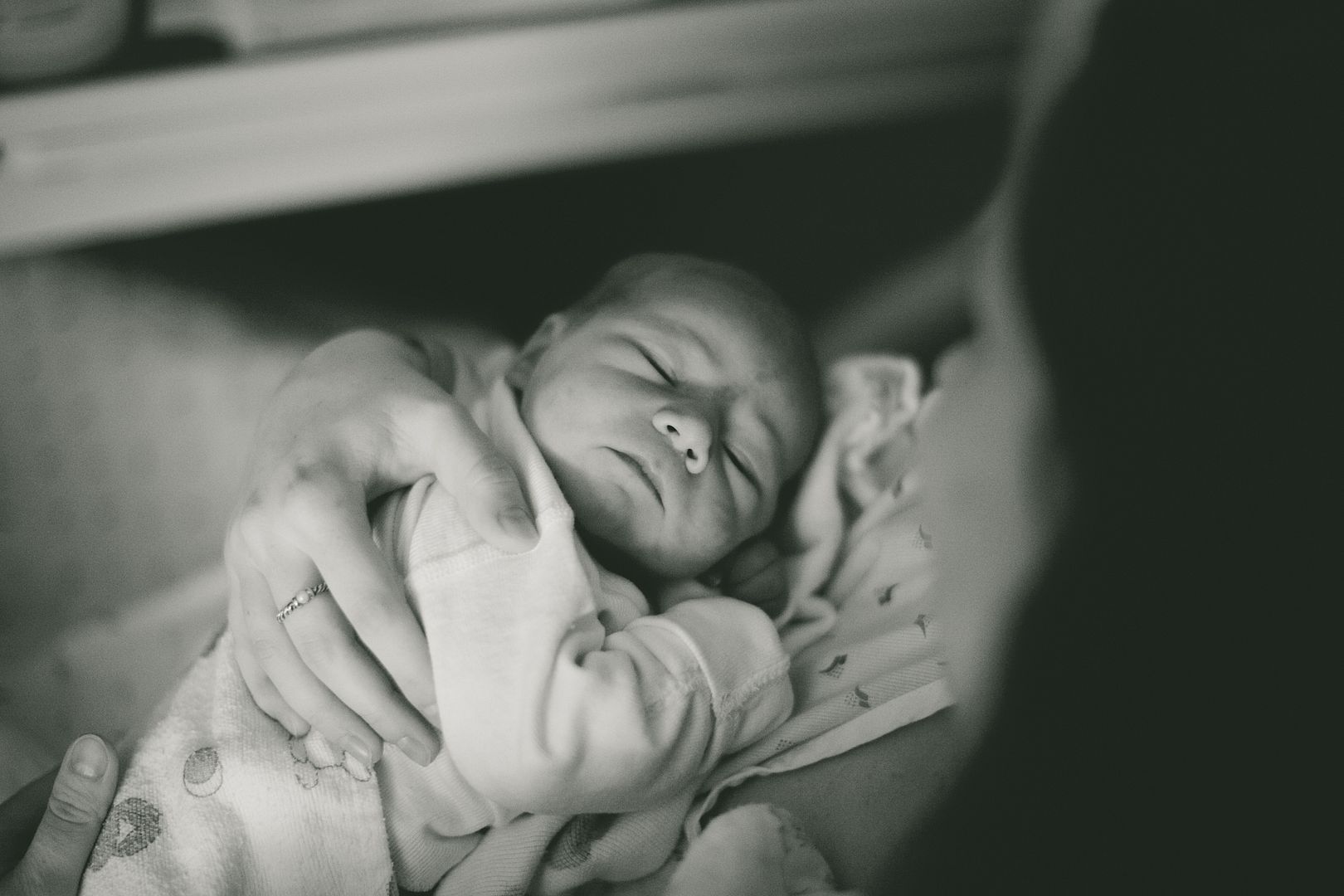 She made eye contact with her mom.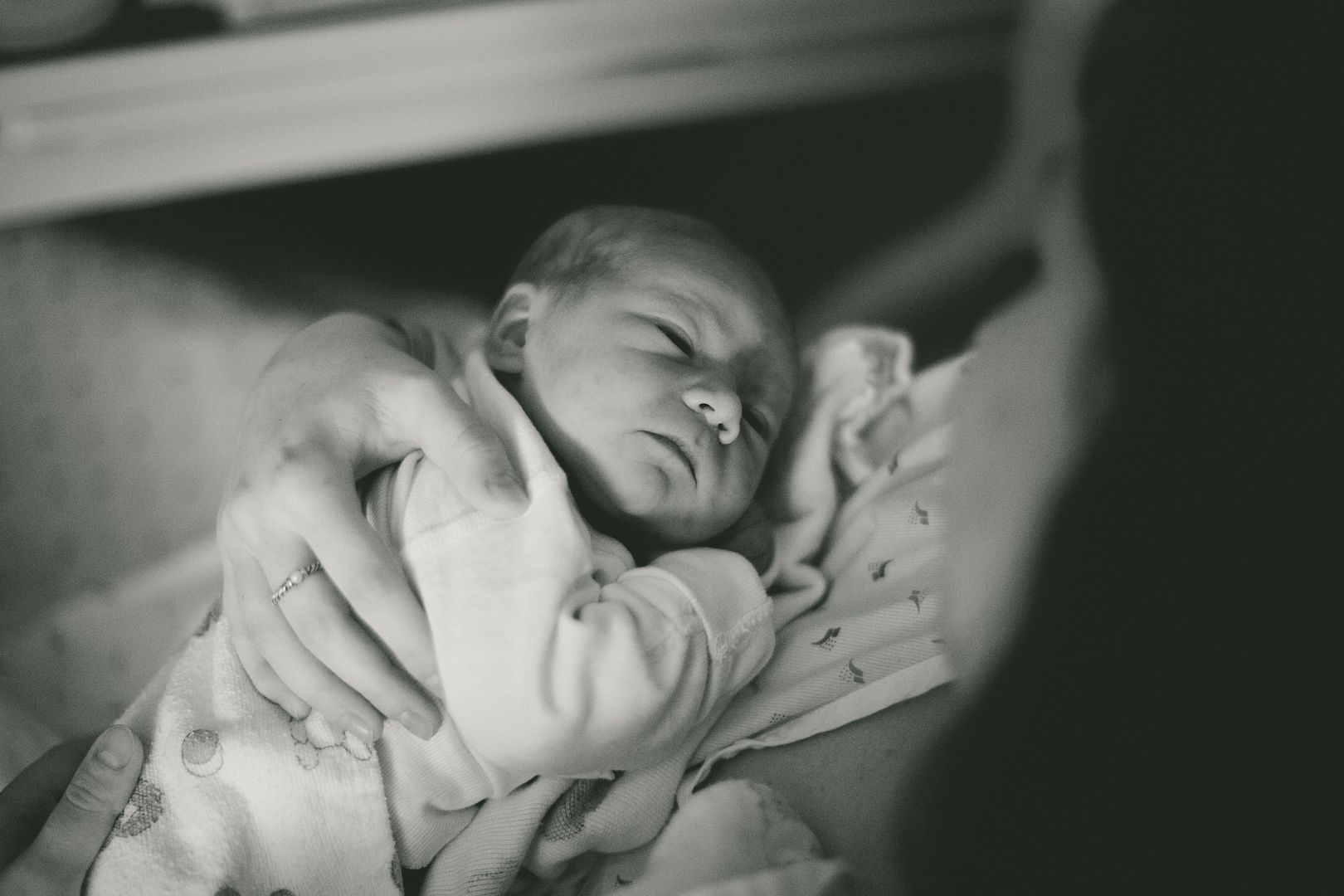 Pathetic whimpers trembled out. "Roooo. Roo. Ree. Roooo." She had to tell mom some pretty sad things, I think.
Janet loved and snuggled and talked to and laughed at Baby Sister.
But then the big bad doctor came and peeled her away from mommy. Her little face in the baby bed sawed my heart in three. She literally rolled her head over towards me and put her fists up on the glass and... just looked so sad!
Knuckles to the rescue once more!
(I call her PopTart because of her nose. It pops!)
It's a very, very bad situation being a baby girl ;)
OooOOh. OH. Those fat soft arm folds!
So many emotions. So many emotionals. Guess who was ready for mom time?
Janet's sense of humor is one of her best qualities. Baby Sister grunted and gnawed on her shirt and it totally tickled Jan.
Flakes and teeny white nose bumps and scrunchy fingers.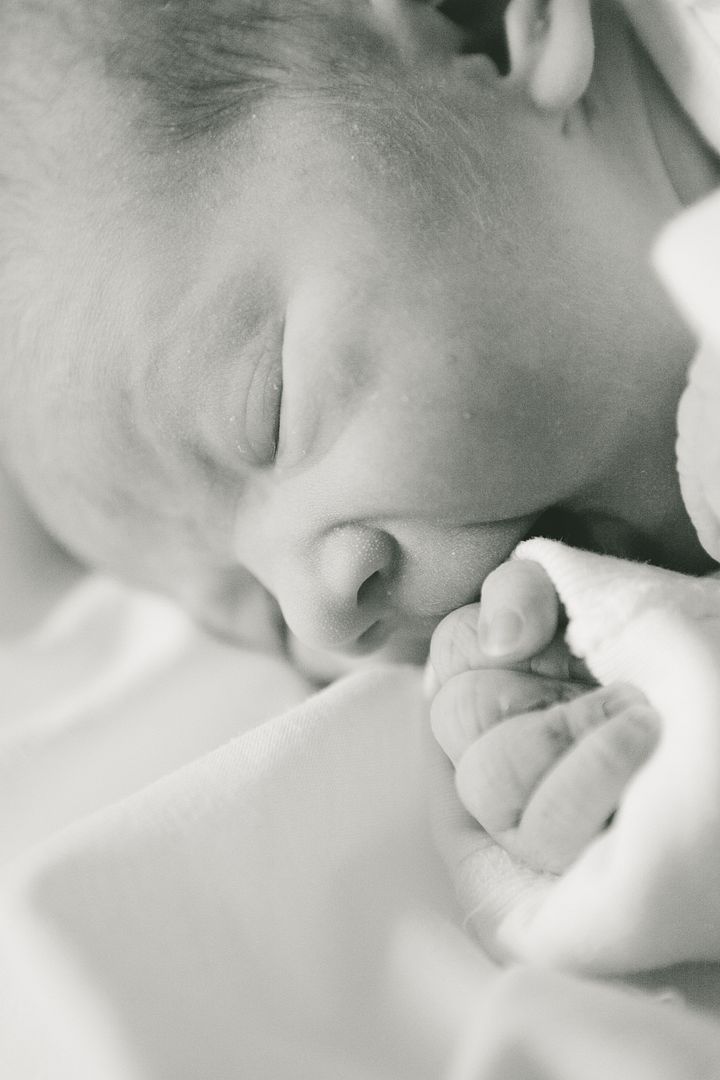 "Giiiiive meeee my haaaands."
Omononommnom nom.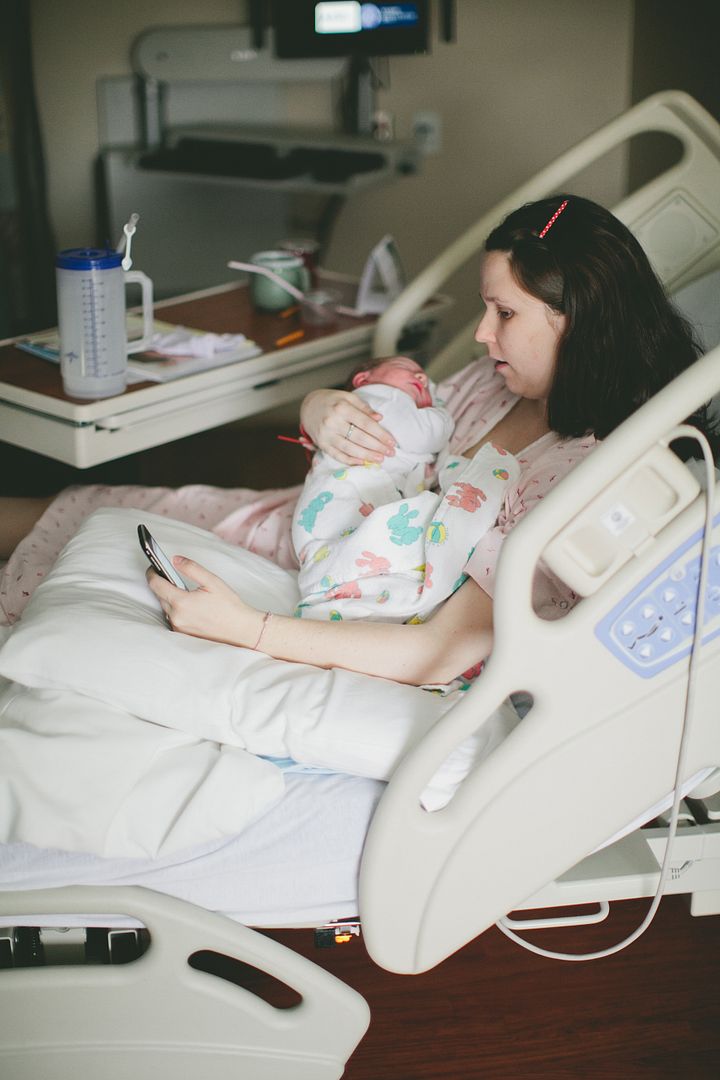 Meanwhile PopTart was feeling much calmer. Her heart was soothed.
And her hands were clasped.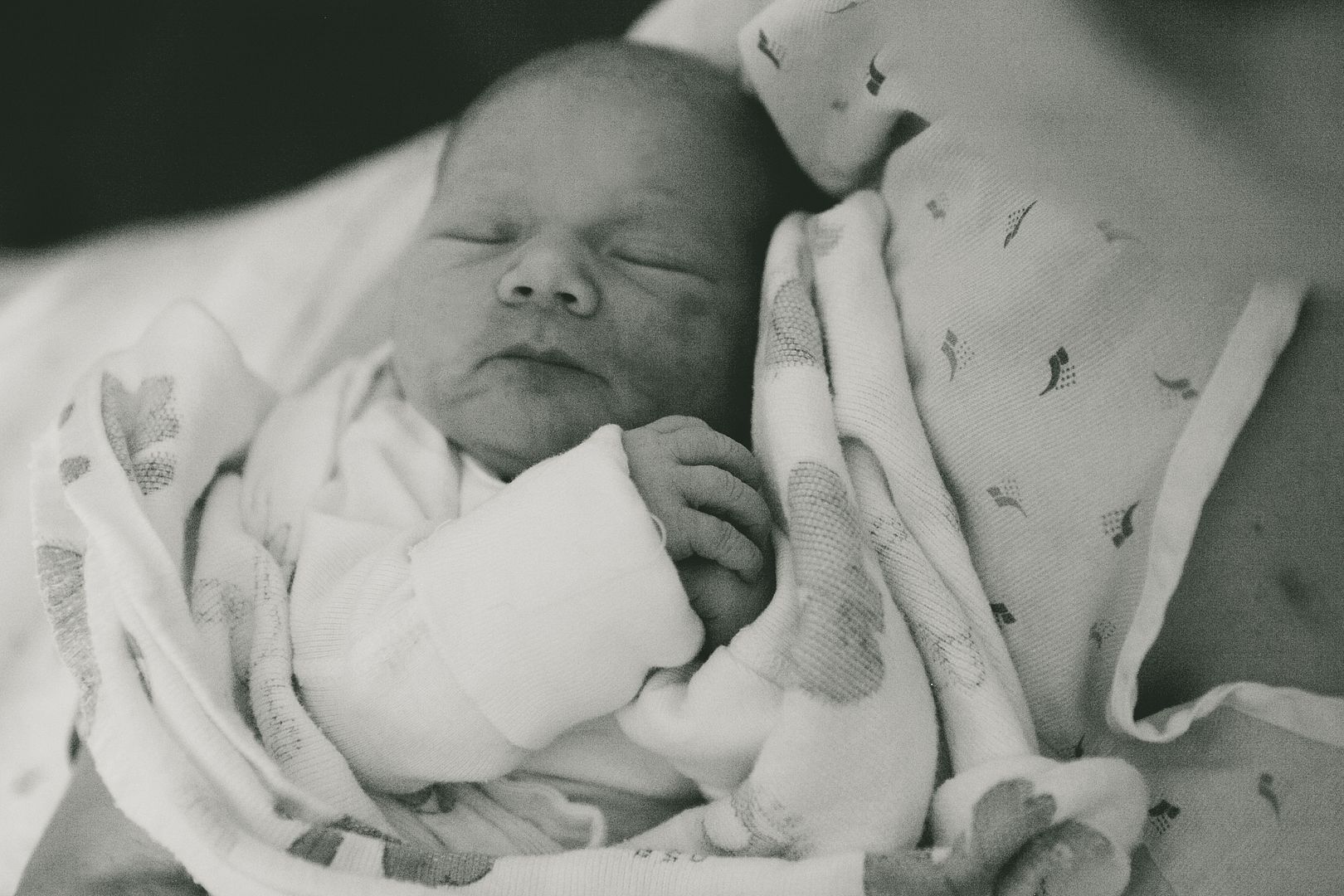 Jan looked at her little face and practiced names on her. It's a very important decision to make!
And then we heard a high-pitched voice down the hall.
I love Audrey's faces.
Audrey seemed confused. Not upset, not bored, not thrilled, but very thoughtful. She watched every move Baby Sister and Mommy made.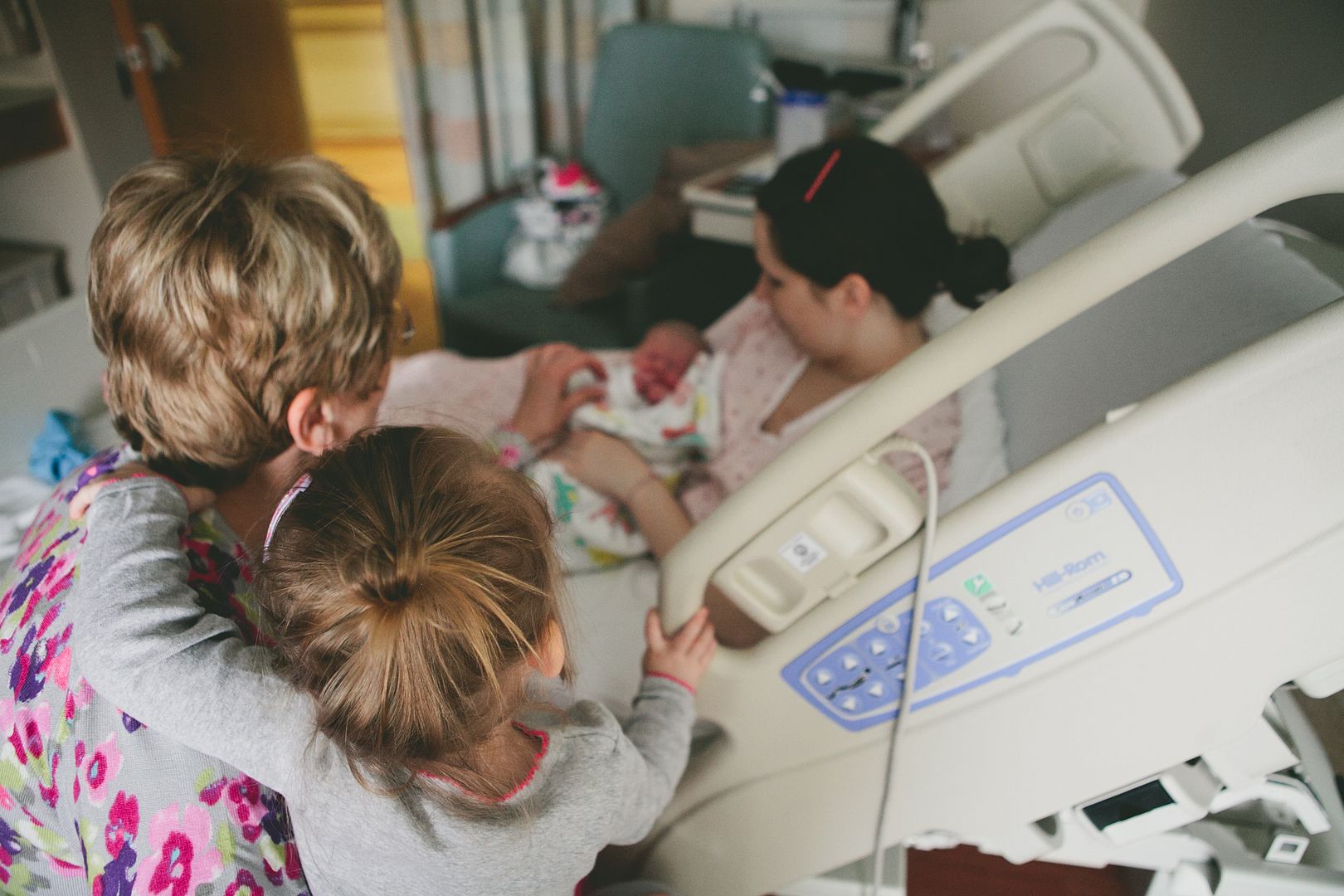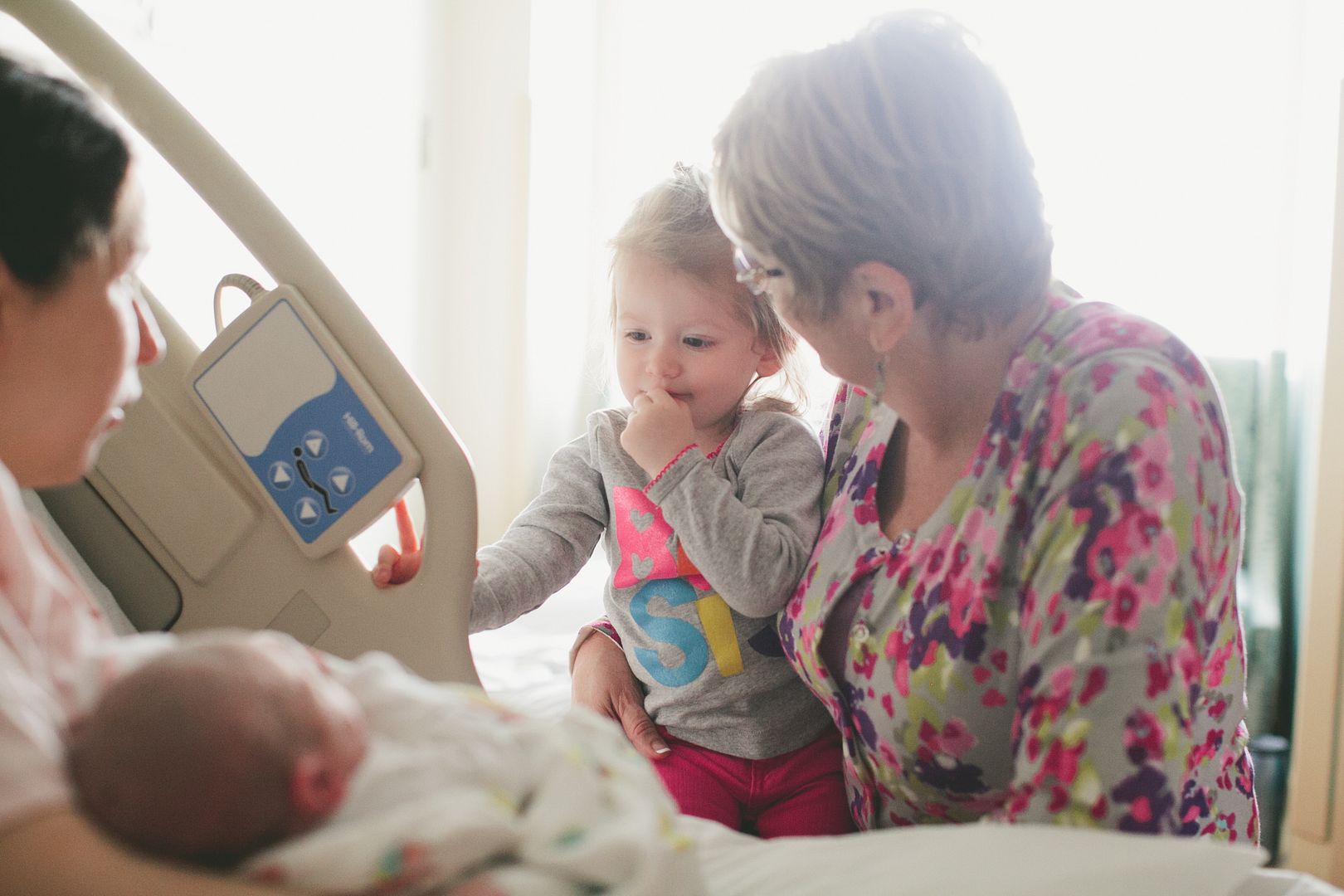 "Do you want to hold your sister, Audrey?"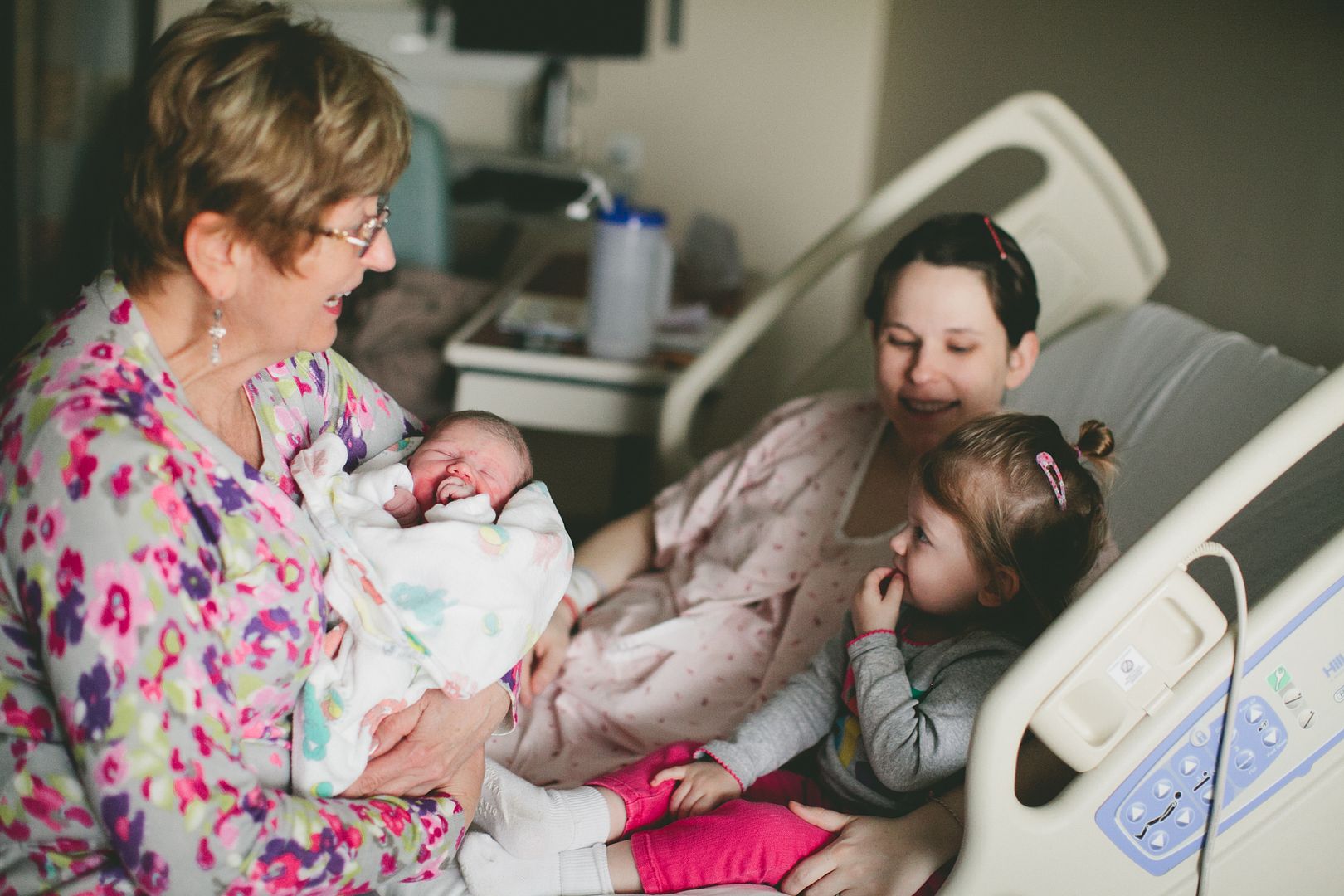 This one makes me cry. When they handed A her sister she immediately looked straight into Janet's eyes - needing some reassurance and affirmation. "This is your sister! She's our baby! Can you say hi to her?"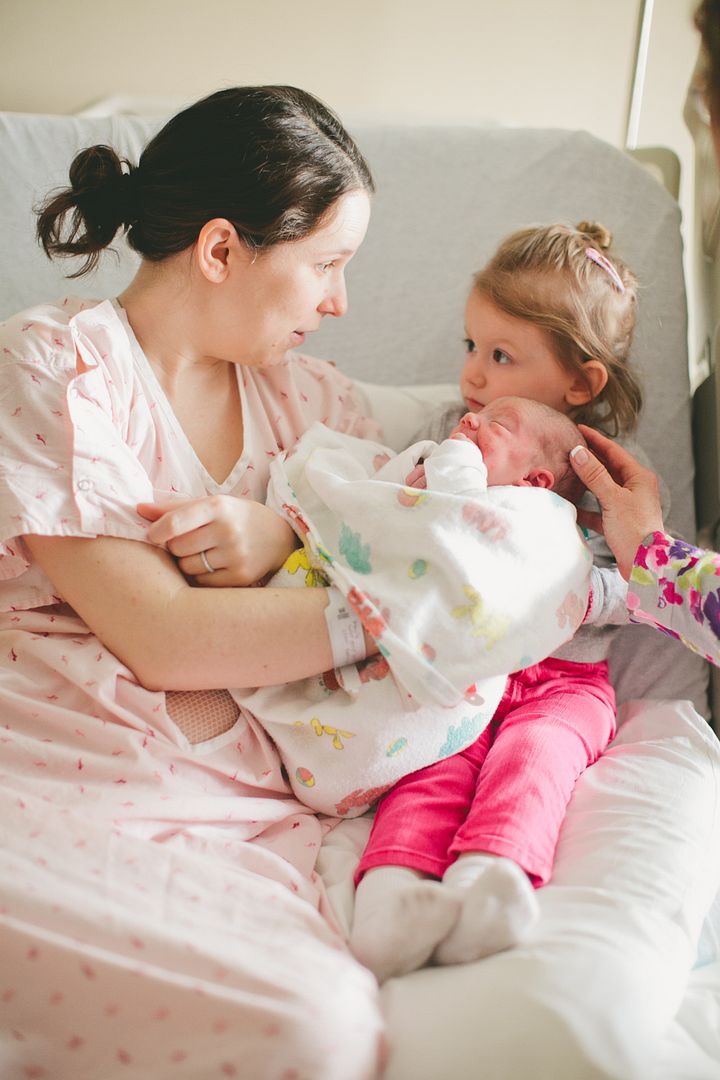 Audrey thoughtfully looked at PopTart. PopTart gnawed those knuckles.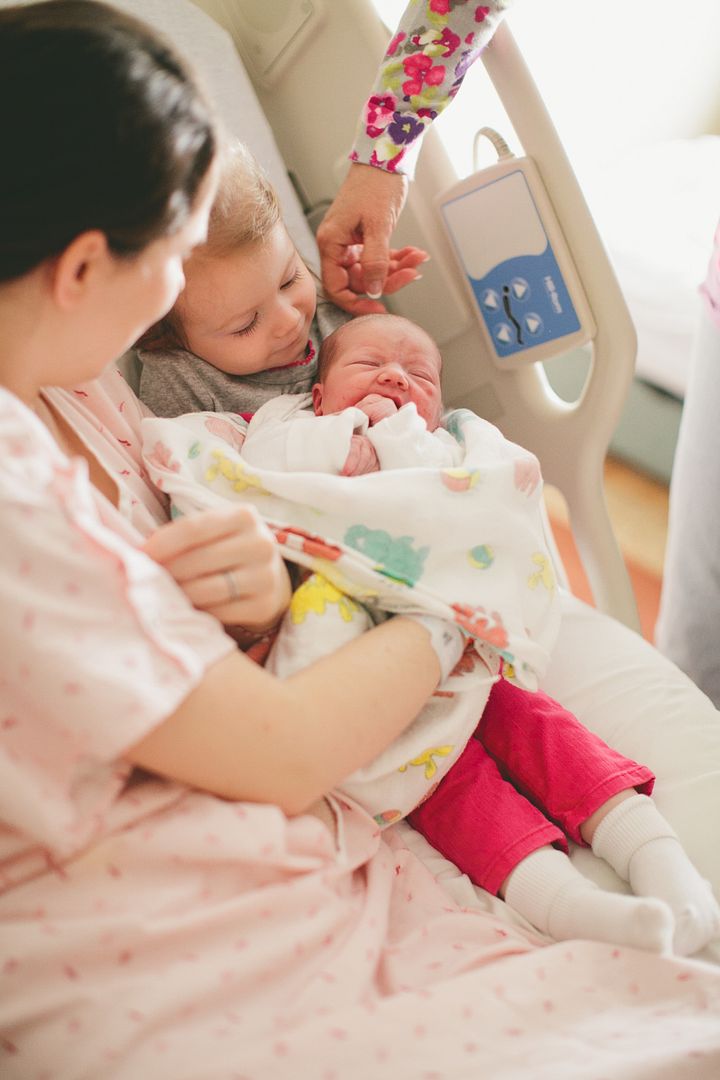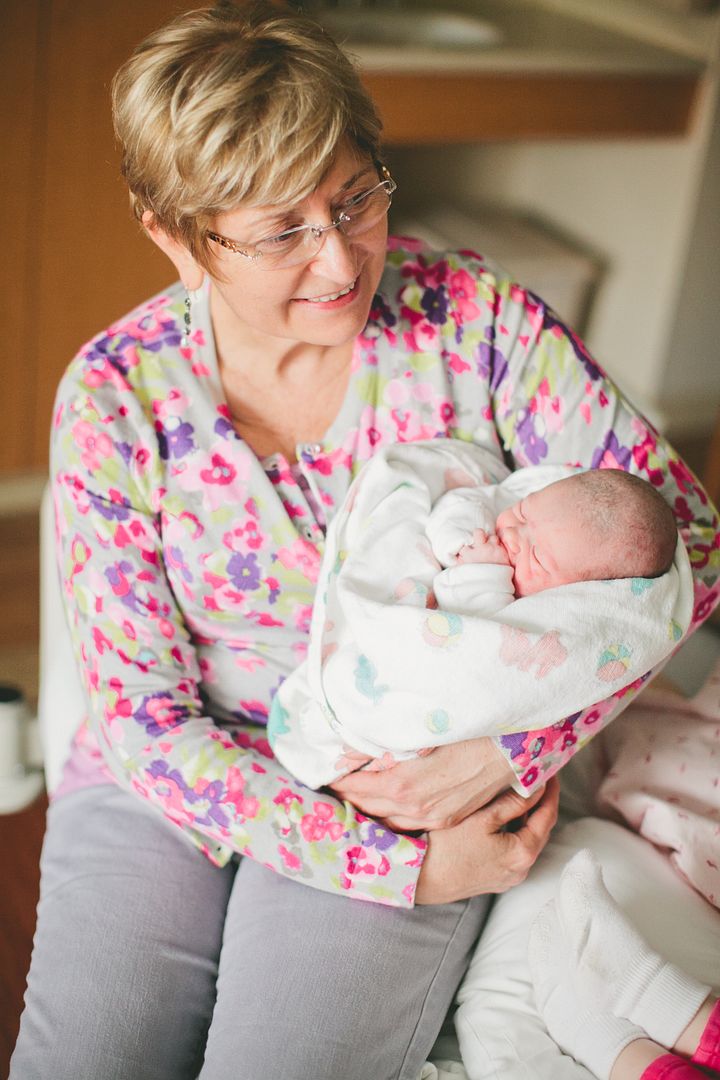 (fuuuuunnny!)
Once G-ma had Baby Sister, Audrey seemed less confused. And rather excited!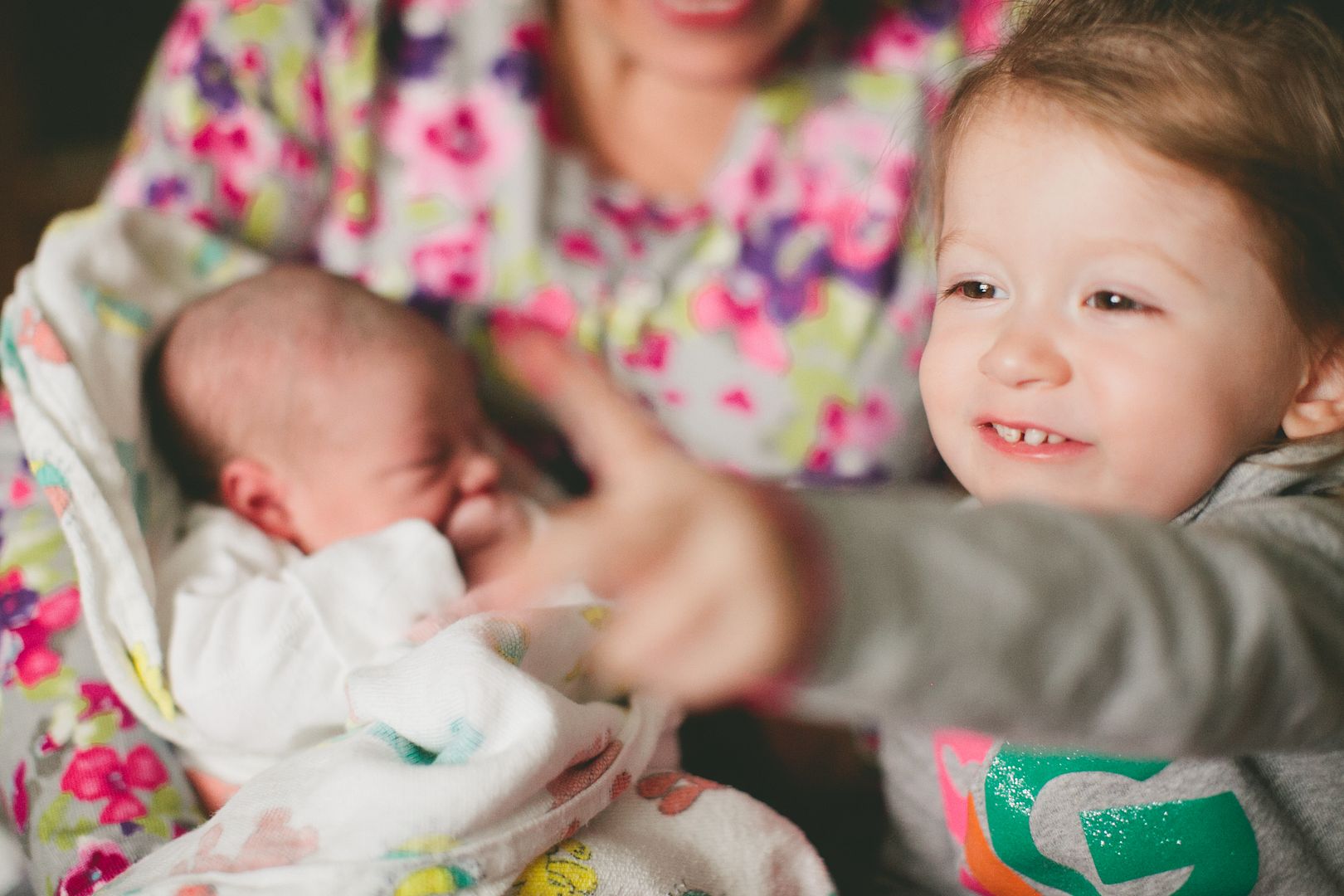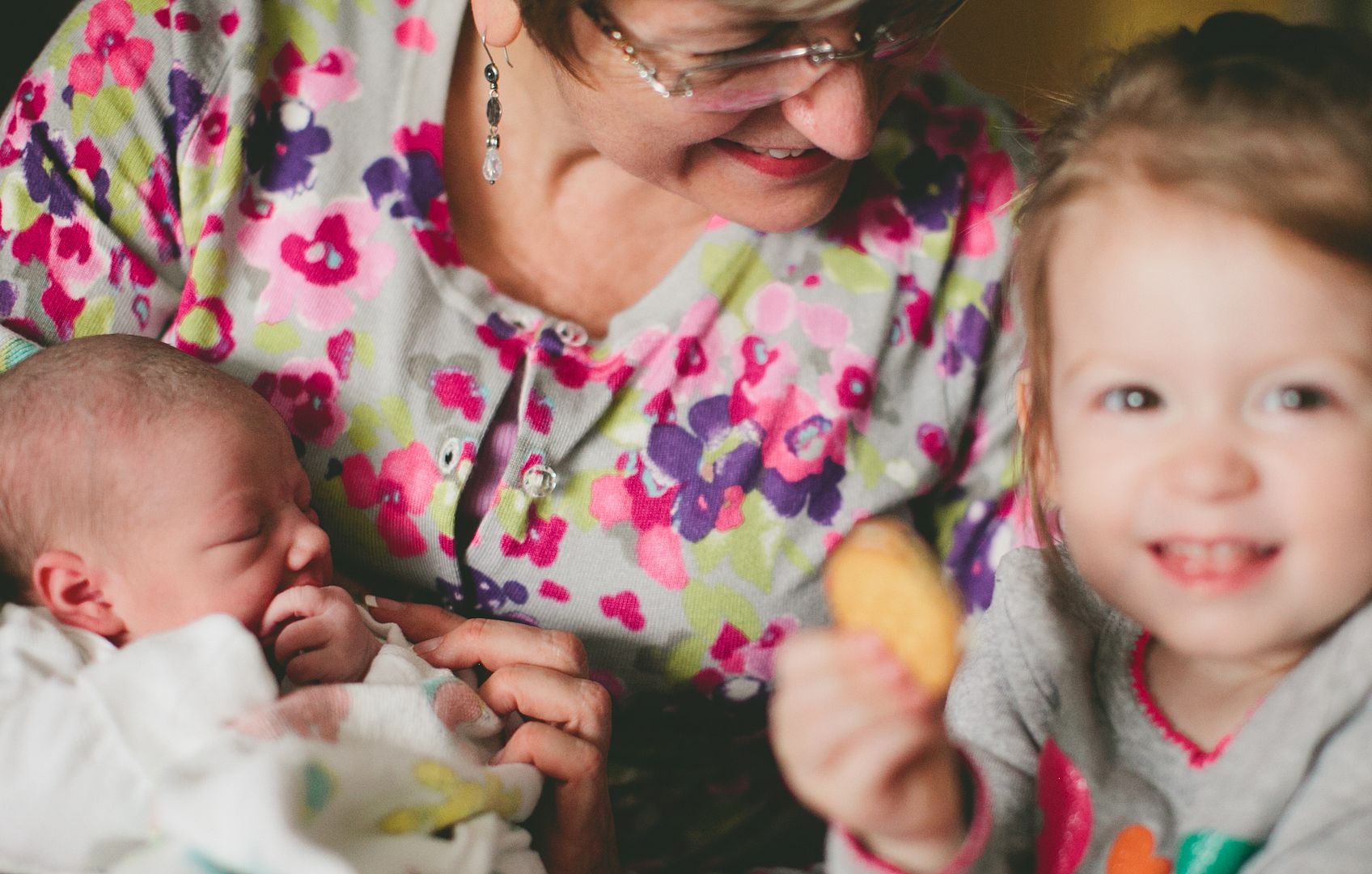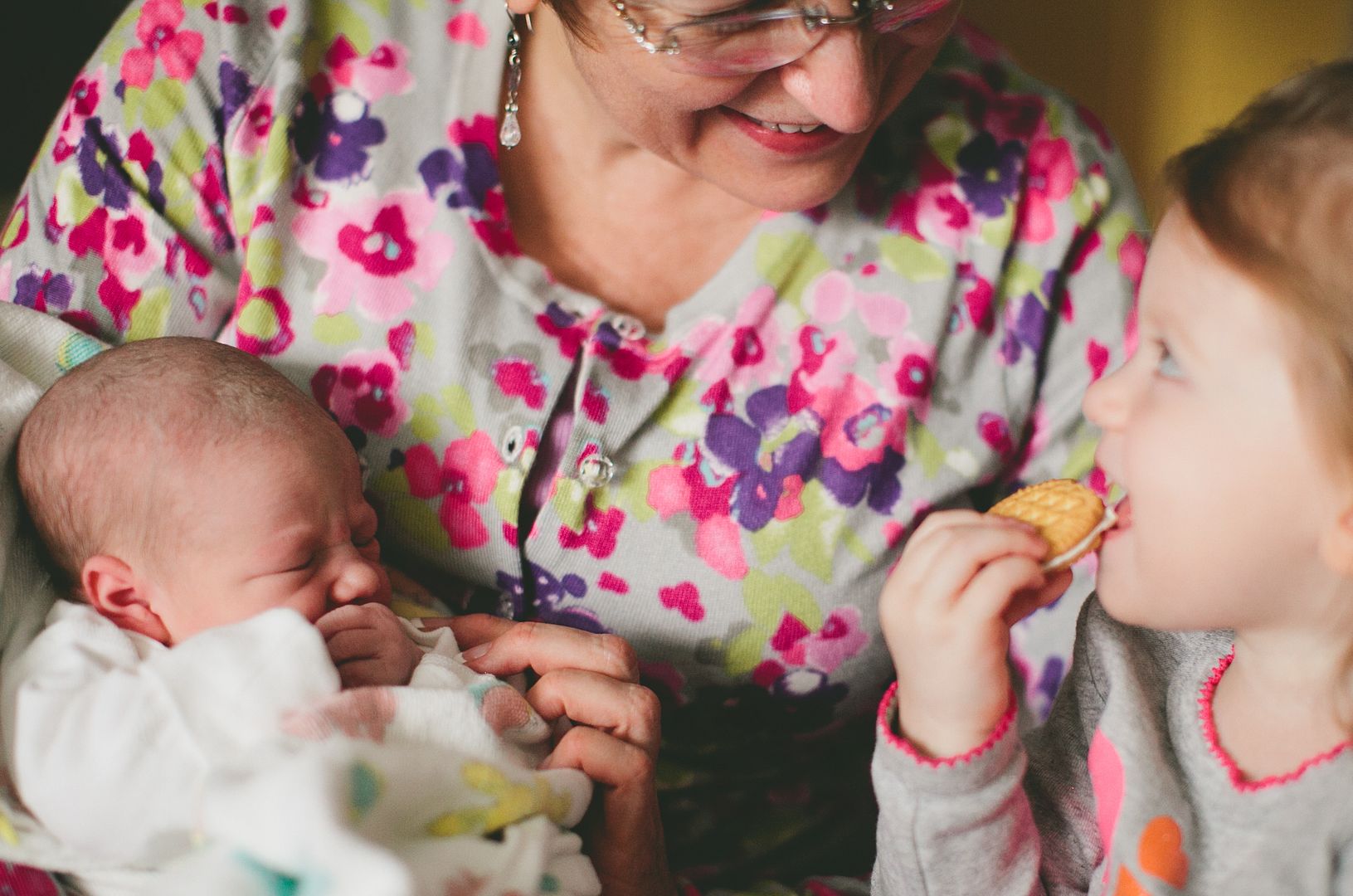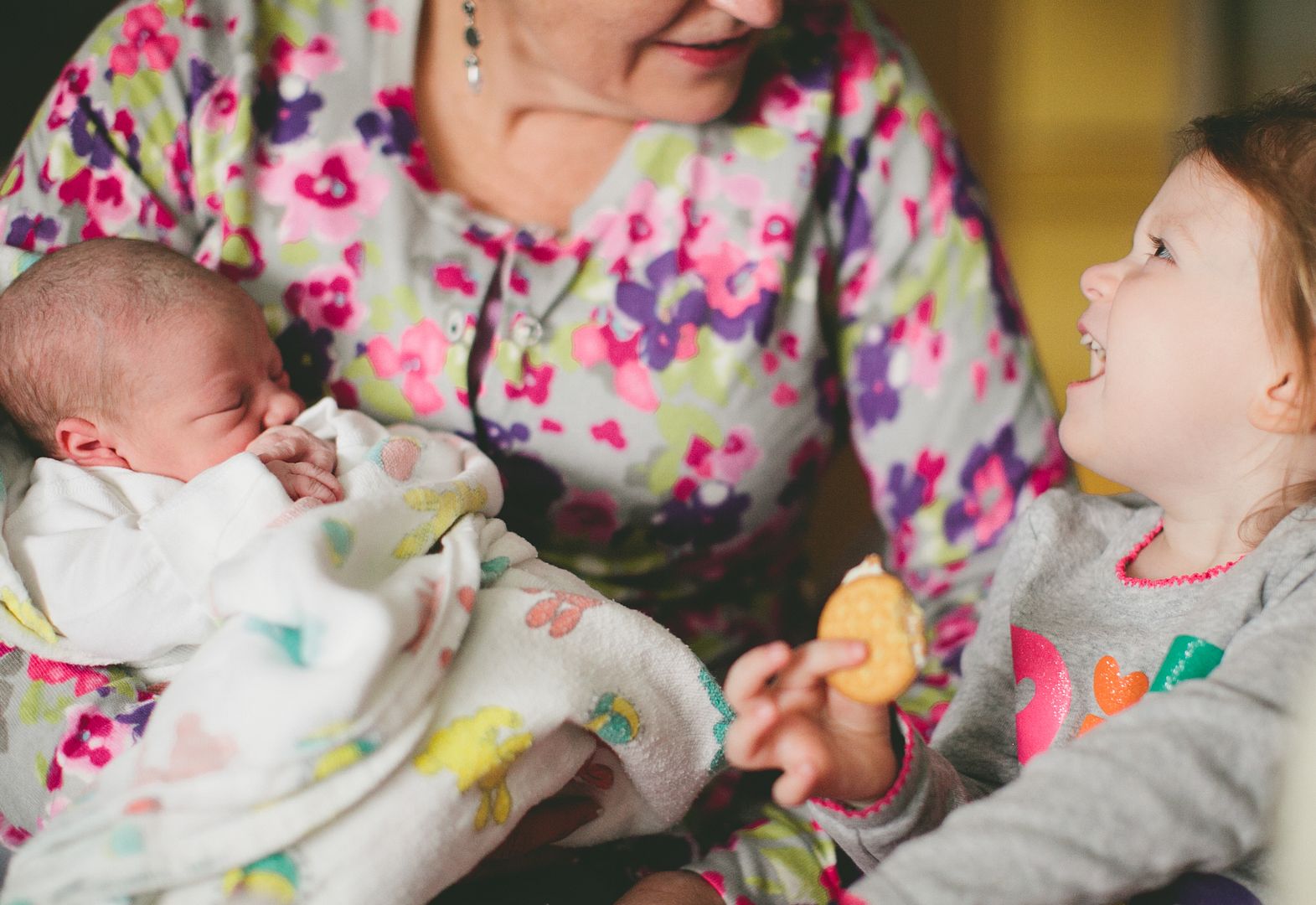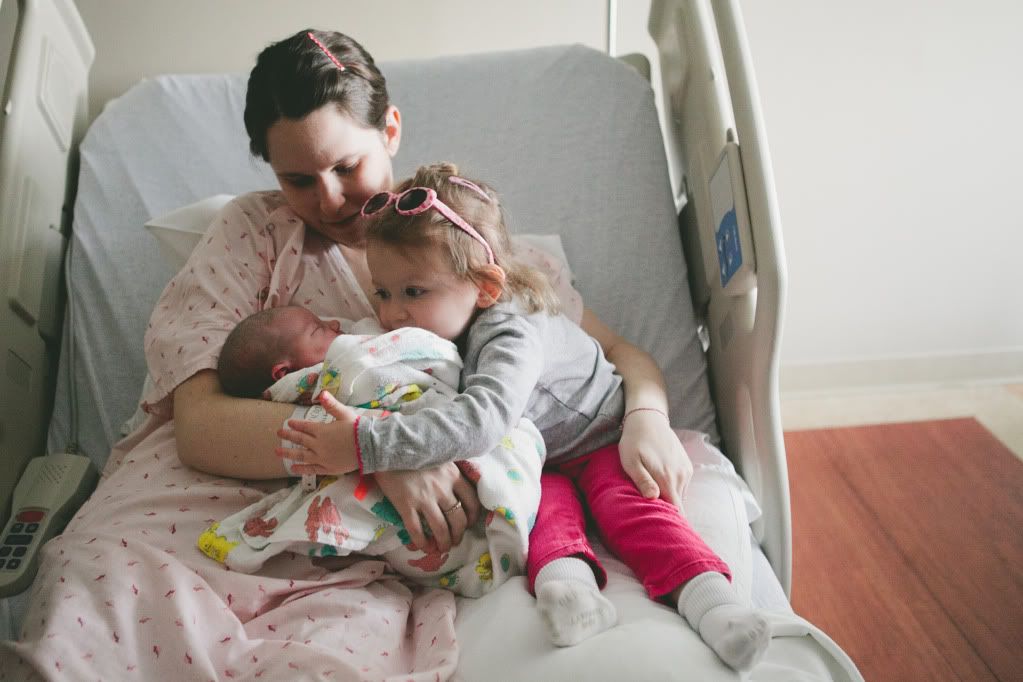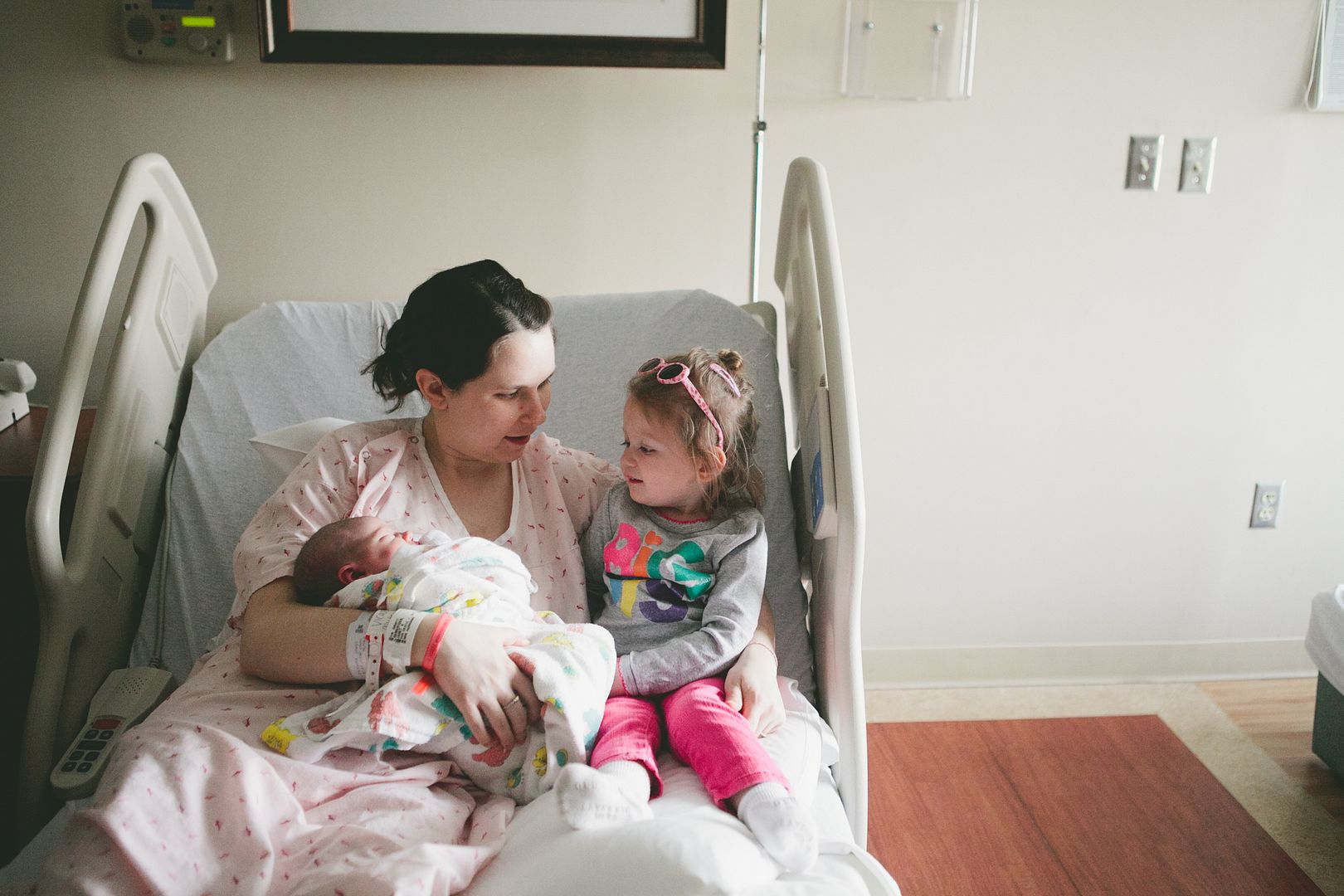 As I was heading out the door I turned around and saw this scene. Audrey locked on Baby Sister.
Audrey whispered to her mama "That baby sister?"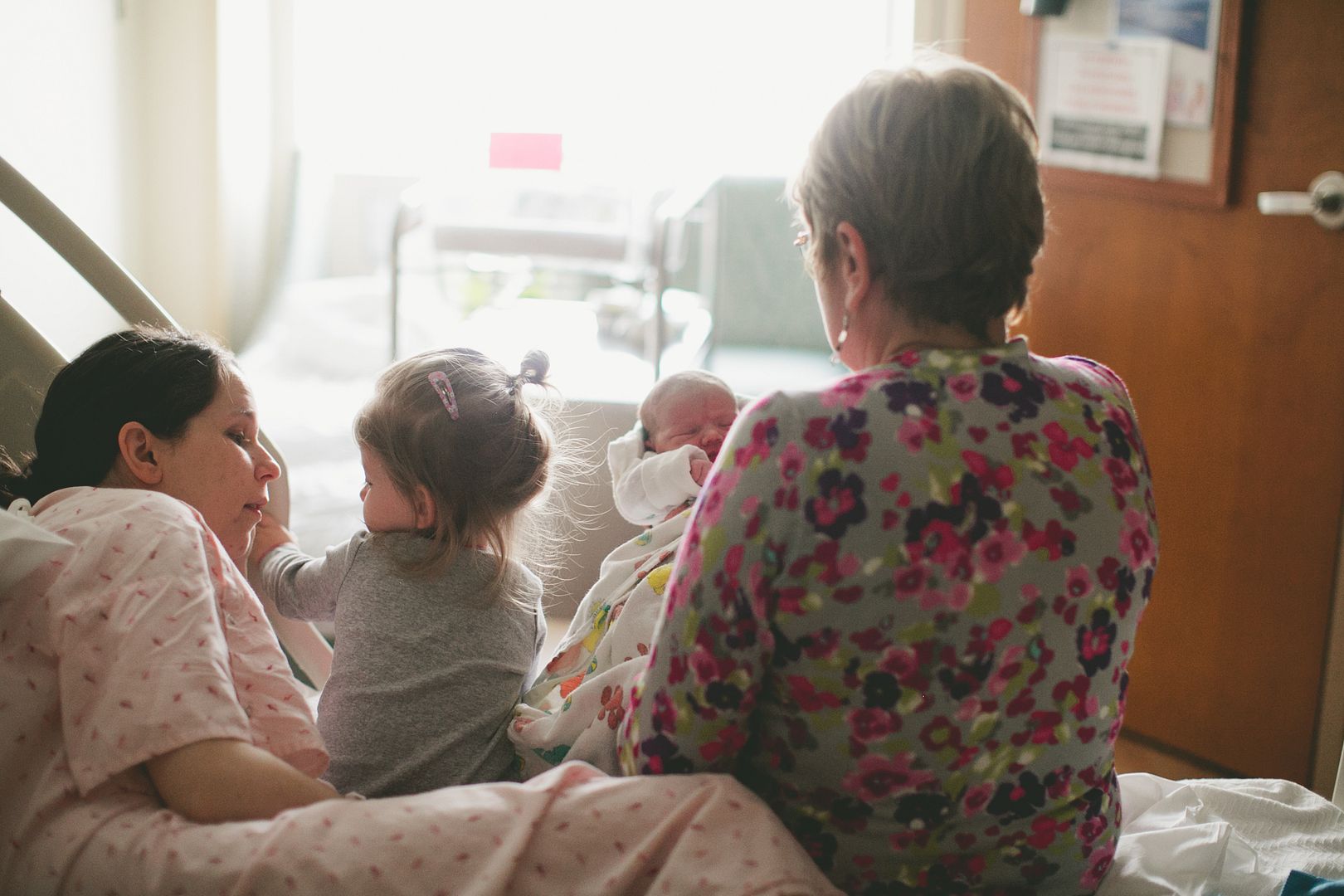 Mama confirmed "Yes, that's Baby Sister!"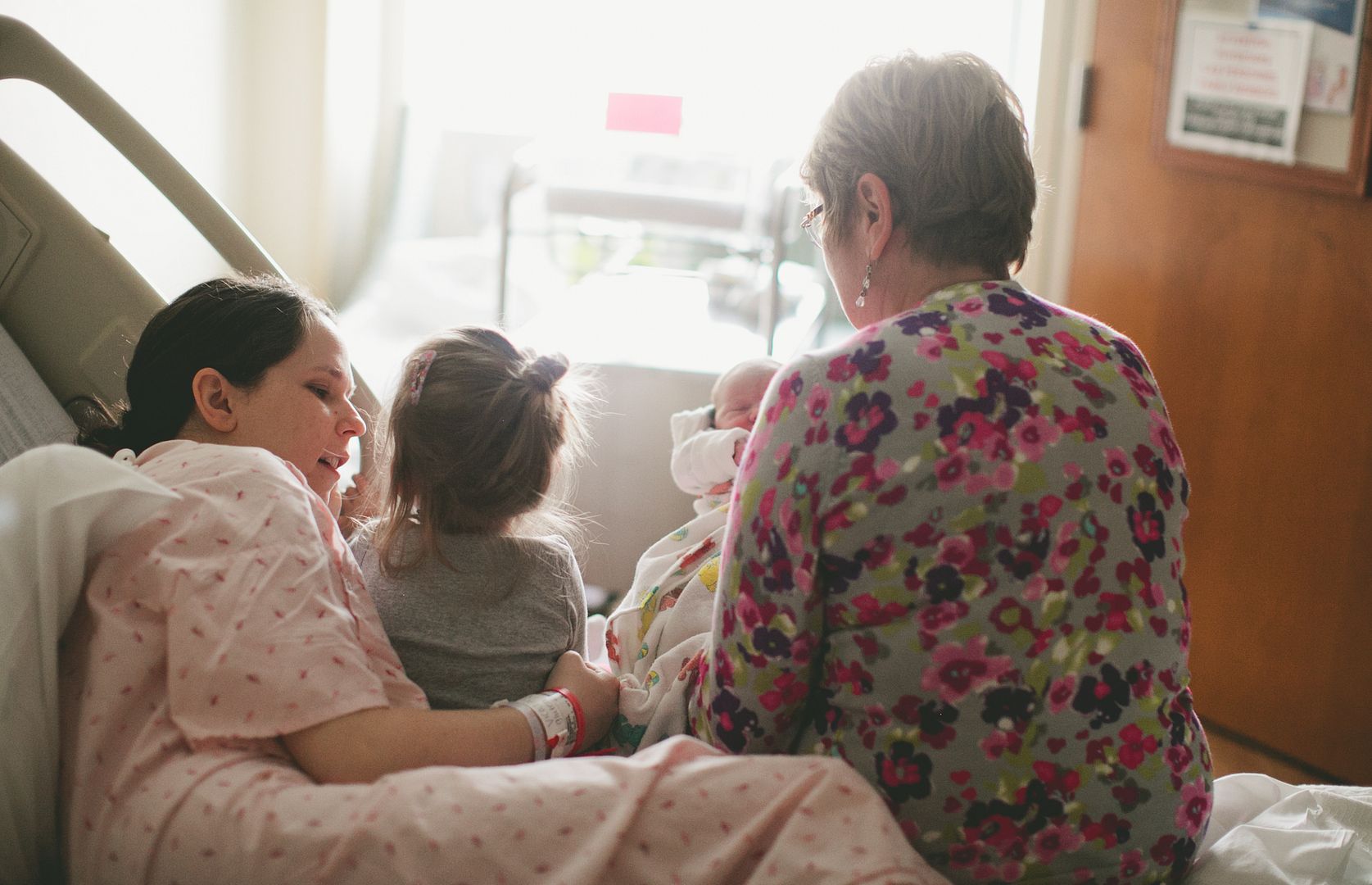 Audrey snuggled up. "Oh, she's so cute."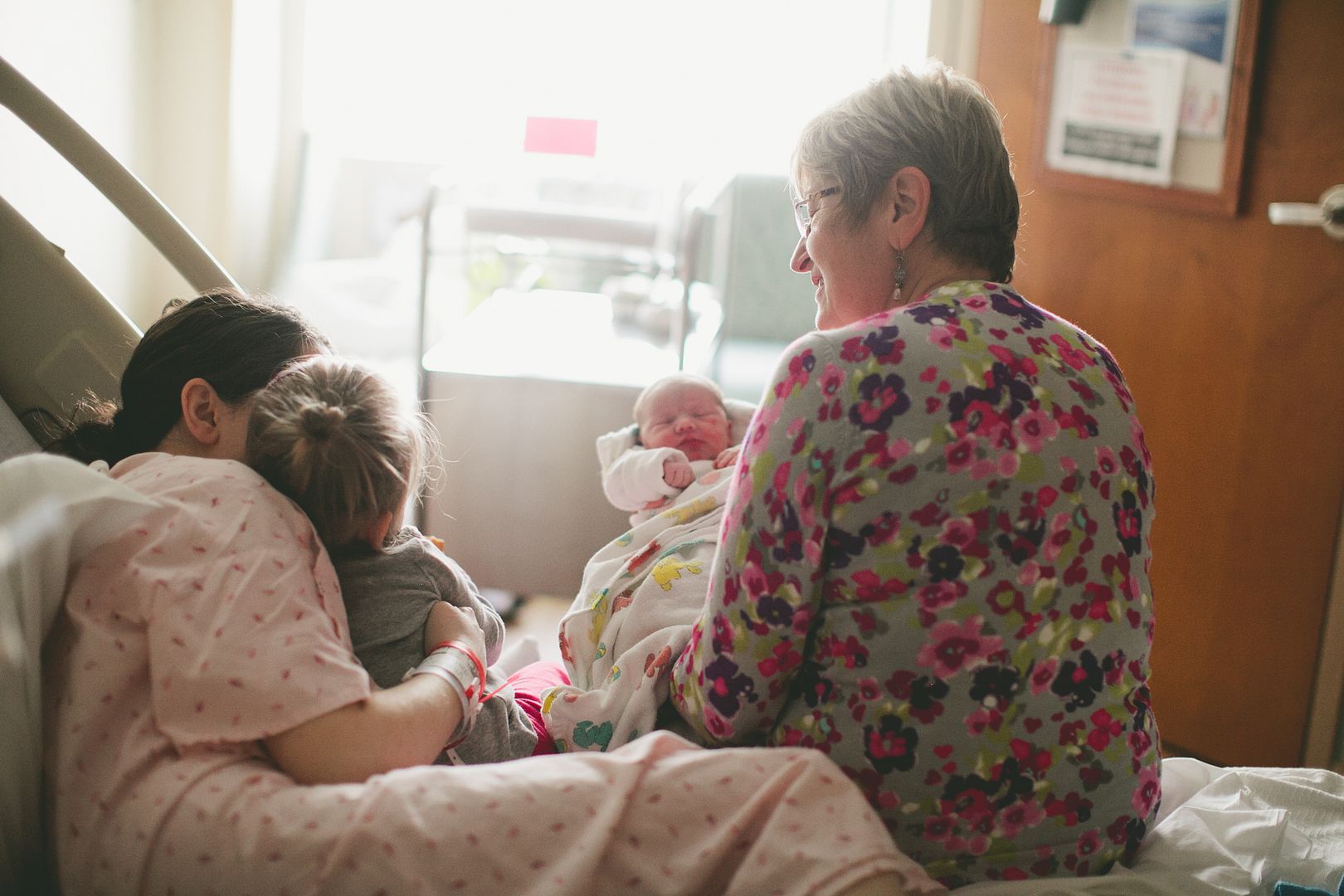 You are so cute, Edith Grace Remsnyder. And loved by all shapes and sizes, near and far. You are wanted, treasured and wonderful to us.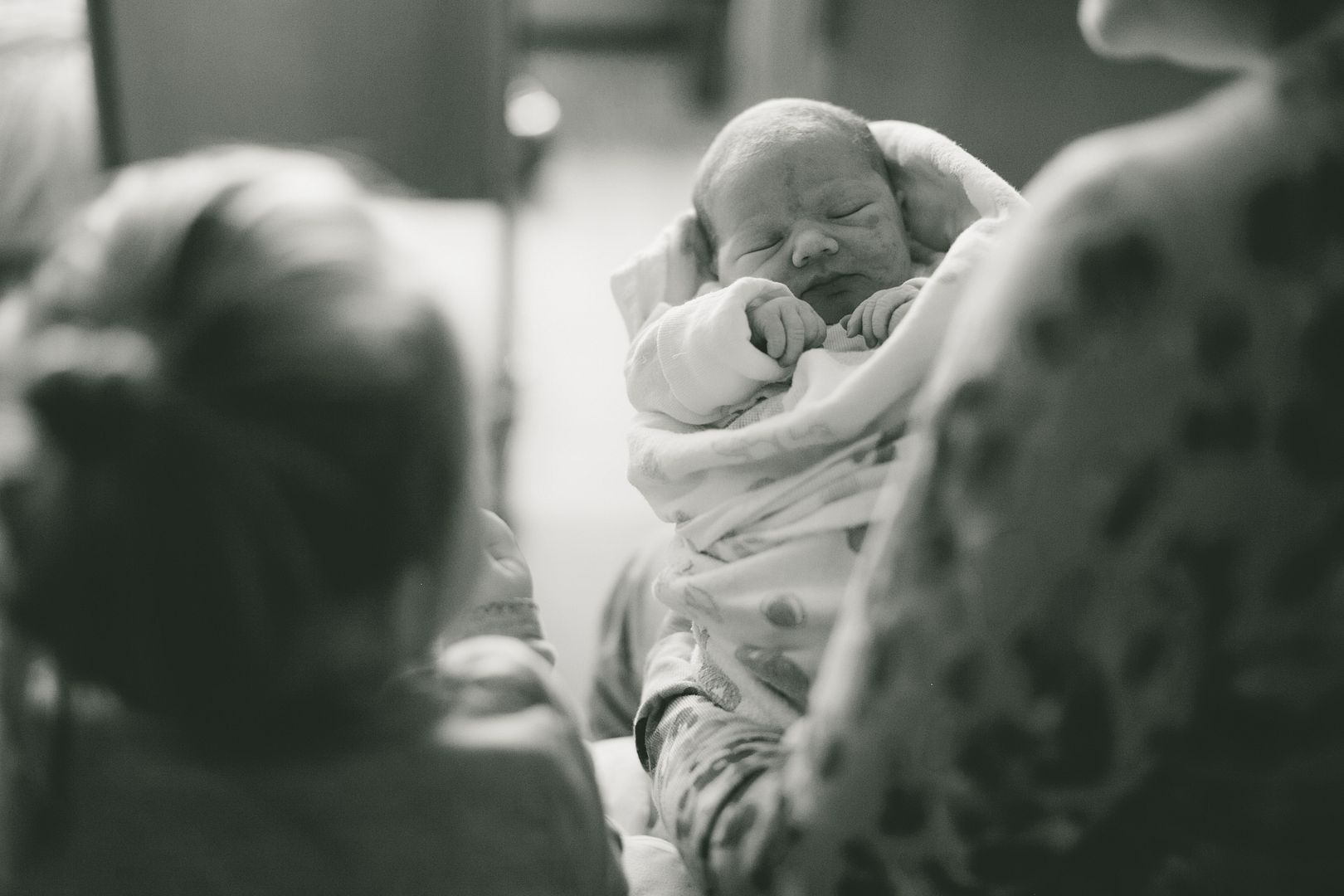 Welcome to your life! Hang on tight :D
"...when a mother has delivered a baby,
she no longer remembers the anguish,
for joy that a human being has been born into the world."
john 16:21